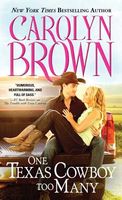 Series:
Burnt Boot Texas
(Book 3)
She's Got Too Many Cowboys On Her Hands
Leah Brennan has always been the good girl of the Brennan family, groomed to become the matriarch of the clan. When a dark-eyed, tattooed, ponytailed bad boy saunters into her life, Leah knows he's off-limits -- but his mesmerizing gaze makes her forget everything she used to think was important. As town-wide tension rises, Leah wonders if love really can conquer all…
And the Whole Town's Taking Sides
When Rhett O'Donnell roars into Burnt Boot on a hot July evening, the first thing he sees is a beautiful blonde. She puts a little extra giddy-up in his heartbeat, but when Rhett's desire throws him into the middle of a love triangle and a hundred-year-old feud, he realizes that winning his cowgirl's heart will be a lot more complicated than he thought.
Another wonderful trip into the world of Carolyn Brown. Rhett has arrived in town to help his cousin on the Fiddle Creek Ranch and in the bar. Instead of driving a pickup truck like everyone else, he shows up on a steer-horn decorated motorcycle, ponytail, tattoo and all. One of the first people he sees is Leah Brennan and she immediately grabs his attention. Leah is the good girl of the Brennan clan, quiet and slated to eventually become the head of the family. She's the fourth grade teacher at the ranch school, and loves what she does. But one look into his eyes and Leah finds a part of her that she never knew existed.
One of the things I love about Carolyn Brown's books is the way the romance develops. There are no big secrets or other dramatic issues to tear them apart. Instead, there are two adults who take the time to get to know each other and realize that they belong together. Not that it is easy. Leah is a Brennan, and matriarch of the family, Mavis, takes an instant dislike to Rhett. She makes all kinds of threats to keep Leah in line and is none too happy when Leah stands up for her own desires. Being around Rhett gives Leah the courage to fight for herself. Rhett's always been a bit of a charmer, but he quickly realizes that he wants more than just a fun time with Leah. I loved the buildup of their relationship as they get to know each other, from fishing to Ferris wheel rides. Both are a little taken aback by how quickly their feelings grow, but they don't run or hide from them. Their happy ending comes about in an unexpected way, but was perfect for them.
I loved Leah and Rhett. From the moment she met him, Rhett brought out the more adventurous side of Leah. She was no longer content to just go along with Mavis's plans for her. Instead, she finds herself spending as much time as she can with Rhett. I loved seeing her stand up to Mavis and walk away from the ranch and the school, standing on her own. For a long time she had had a crush on Tanner Gallagher, but she knew nothing could come of that. Once she met Rhett, Tanner was history. There was some trouble involving Tanner, which Leah dealt with beautifully.
Rhett was great. He's easy going and has a great sense of humor. He sees the ridiculousness of the feud and doesn't let it bother him. He's very family oriented and refuses to get in the middle of the feud. I like the way he encourages Leah to follow her heart, rather than telling her what she should do. He's a true cowboy gentleman and maintains his cool under some pretty trying circumstances.
The feud between the Gallaghers and the Brennans continues in this book. In the previous book,
The Trouble with Texas Cowboys
, the feud had taken the form of "pig wars". Things get a lot more intense, smell wise, when septic tanks are involved. There is also a cat fight between the two matriarchs, Mavis and Naomi, right in the middle of the street. I loved the resolution of that one. There are hints that some of the family members have had enough, but so far no one is doing anything about it.