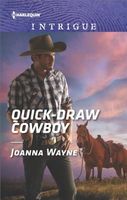 Series:
Kavanaughs
(Book 2)
This cowboy is a sure shot to the heart…
Riley Lawrence is an expert at moving on and not risking his heart. Helping pastry chef Dani Boatman is a onetime deal -- she's got her hands full giving her orphaned niece a stable home. But someone with a vicious grudge has a target on the curvaceous redhead's back. And destroying her life is just the start…
Dani doesn't trust easy -- a lesson she learned the hard way. This freewheeling cowboy with an irresistible grin insists on putting himself between her and harm's way. But the desire getting hotter between them can't promise anything more than heartbreak. And with unsuspected danger also closing in, Dani and Riley's one chance for love could prove forever lethal.
Good book. Dani is relatively new to Winding Creek, but has quickly made a place for herself. She owns a bakery and is legal guardian to her niece, Constance. She is beautiful, independent, determined to give Constance a better life than she'd had before. She is friends with Grace, who is about to marry Pierce Lawrence.
Riley is one of Pierce's brothers and has arrived in town for Pierce's wedding. Riley is a wandering ranch hand who is best known for not staying in one place for very long. Riley is good-looking, charming, and chivalrous.
The story begins with Dani being threatened by her sister's ex, who claims to be Constance's father. He's threatening to sue for custody if Dani doesn't turn over half the insurance settlement from Amber's death. The money is tied up in a trust, so Dani couldn't do it even if she wanted to. But James's threats are frightening anyway, and Dani will do what she must to protect her niece.
Riley arrives in town and stops by Dani's bakery for coffee. He steps in to help when she's overwhelmed by customers. He's quite taken by her and looks forward to seeing more of her at the wedding. I loved seeing their quick connection and the attraction that flares between them. When Dani's bakery is vandalized, Riley insists on helping with the cleanup and staying to give her peace of mind. He senses that she isn't being completely honest about what is going on and is determined to be there for her.
I liked seeing the relationship develop between them. Dani knows Riley's reputation, but is determined to enjoy his company while she can. It isn't long before his care for her and for Constance works its way into her heart. Riley finds himself less and less interested in moving on, and more interested in spending time with Dani. I really enjoyed seeing him bring some fun into their lives and how they brought a feeling of home into his. The ending was really sweet and romantic with the surprise that Riley had for Dani.
The suspense of the story was good, The main theme was the threat against Dani. James was definitely a nasty piece of work who obviously cared more for getting some easy money than what was best for Constance. What he did to Dani's bakery increased the tension she was under, as she wondered what would happen next. I liked that she was also proactive in taking steps to find out if he was truly the father. There's also a twist where others get involved in his scheme, increasing the danger Dani is in. The final confrontation was intense with some surprising information coming out of it regarding an event from the previous book.
I really liked the relationship between the three Lawrence brothers. Each had coped with their childhood trauma a different way, but their ties have never been broken. I also loved the way that they all had a part in helping Dani.