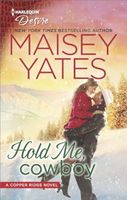 Series:
Copper Ridge
(Book 8)
Stranded with a cowboy for Christmas…
Oil and water have nothing on Sam McCormack and Madison West. The wealthy rancher has never met a haughtier -- or more appealing -- woman in his life. And when they're snowed in, he's forced to admit this ice queen can scorch him with one touch…
Madison had plans for the weekend! Instead she's stranded with a man who drives her wild. A night of no-strings fun leaves both of them wanting more when they return to Copper Ridge. His proposal: twelve days of hot sex before Christmas! But will it ever be enough?
Good story of opposites attracting. Madison is a member of Copper Ridge's wealthiest family, but one who has been something of an outsider for the past ten years. At seventeen, she was seduced by a married instructor, but when the affair was discovered, she was blamed. Hurt, bitter and emotionally devastated, she has avoided any relationships since then, using a snarky attitude to keep people at a distance. But she's tired of her celibacy and has set up a weekend away with an acquaintance, one that she feels won't threaten her defensive walls. But a snowstorm keeps her partner away, and a power outage sends her to the cabin next door for help. To say she isn't happy at who opens the door would put it mildly.
Sam is the local farrier who has taken care of her family's horses for several years. He is also a talented metal sculptor who has come to the cabin as a retreat to decide what he's going to make next. Sam is gruff, grouchy and anti-social. He's carrying some baggage of his own from the past which has left him guilt-ridden and emotionally closed off. He, too, has avoided intimacy of any kind since it happened. Having Madison, who has been a thorn in his side for years, show up at his door is not the inspiration he was looking for. But he can't let her freeze, so he lets her in.
Sam and Maddy have been butting heads for years. He thinks she's a snob and she thinks he's just a jackass. But all that antagonism has been a cover for the attraction that both have been trying to deny. When Sam finds out about Maddy's plans for the weekend, he offers to fill in. A passion filled weekend will scratch their respective itches and they can go back to normal when they go home. However, things get much more intense than either expected, and within a few days of going home they decide they want to continue for a little longer. They give themselves permission to carry on until Christmas, and then they'll end it.
But a funny thing happens in the midst of all that window steaming togetherness. Sam's gruffness hides a pretty sensitive heart and Maddy finds herself opening up about the events behind her ten year dry spell. His lack of condemnation for her actions and his disgust with the instructor, go a long way toward healing the hurt that has been with her for so long. It also makes her far more willing to open herself up to the feelings that are growing for Sam. He has also begun experiencing feelings that he has closed off, but he's not at all happy about it. He tells Maddy about the tragedy that has made him the way he is, and is stunned that she doesn't feel the same disgust with him that he does. I ached for Maddy as she tells him how she feels and he does his best to drive her away. I loved seeing her admit that she's made her mistakes, but that she's through accepting all the blame. But getting Sam to see that he doesn't deserve the guilt he heaps on himself doesn't go as well. I cried for her unhappiness, as she is sure that Sam loves her, but can't get past his own pain. I loved seeing his brother Chase dish out the same medicine that Sam gave him, enabling Sam to finally see the truth. I loved the ending, with Sam and Maddy coming together, but also agreeing that love isn't going to turn them into a unicorns and rainbows kind of couple, that snark and sarcasm will always be a part of who they are.