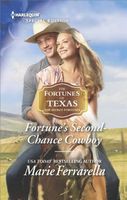 Series:
Fortunes of Texas: The Secret Fortunes
(Book 3)
WELCOME HOME, CHLOE FORTUNE!
"You're family," Graham Fortune tells his newly discovered half sister, Chloe Fortune Elliott, and just like that, Chloe has a new job and a new home in Austin. She works well with the troubled teens at Peter's Place, but she's having more difficulty managing a male of the grown-up variety. Ranch hand Chance Howell gets under her skin from the moment they meet.
The tall blond army veteran is good with horses and adolescents, but he's a master at avoiding intimacy. Maybe that's why Chloe is so drawn to him. Or maybe it's the sadness she recognizes in his eyes. Her head tells her falling for Chance is a bad idea. Her heart tells her she may have no choice…
Very good book. Chloe first appeared in the previous book (
Her Sweetest Fortune
) as a newly discovered Fortune half-sibling, and the one that Sophie went off on during a family get-together. This left her wondering if she would ever be accepted by her new family. That feeling was eased somewhat by a call from Graham Fortune, one of those members, who has offered her a job. She's a newly minted counselor and is thrilled to have a chance to work with the troubled teens at the ranch. She's also looking forward to a new stage in her life, after the death of her husband overseas.
Chance is an army veteran who has just been hired to work on the ranch. Ever since coming home several years before, he has had a hard time settling. He'll work a job for awhile and then start feeling restless and move on. He's haunted by the things he's seen and done and deals with the memories by not allowing himself to get too close to anyone. His leadership experience has Graham putting Chance in charge of mentoring the boys in their ranch work.
When Chance and Chloe first meet, they are under the misunderstanding that they are interviewing for the same job. It's pretty amusing to see their thoughts about the other's qualifications for the job. There is also an instant spark of attraction, something that neither one wants to pursue. Chloe feels disloyal to her husband's memory just by admitting her attraction. Chase knows better than to get involved at all, since his track record of sticking around is really bad. He wouldn't want to hurt a woman, so he just remains a loner.
I loved the slow growth of their relationship. It starts out simply, as two people with four teenagers to help and guide. I liked how Chance got Chloe to learn to ride by challenging her courage. Chloe is stubborn and feisty and refuses to be thought of as a scaredy cat. It was really sweet to see Chance's patience as he teaches her. All that time together also gives their attraction time to go from a simmer to a boil. I loved seeing Chloe begin to allow herself to feel again, after being so numb after her husband's death. But she isn't completely over her fears, and the idea of opening her heart to the risks of loving again makes her wonder if she's doing the right thing. Chance has been running from commitment for so long that he's taken by surprise when he realizes that he has no desire to run this time. But he also has his own insecurities, and doesn't think a Fortune would be interested in an ordinary cowboy like him. I thought it was pretty awesome that it's the boys who give Chance the insight and courage to go after what he wants. I loved the ending, which was sweet and romantic, with a little bit of humor added in.
I really enjoyed seeing both Chance and Chloe working with the four boys. It was awesome to see how quickly both of them became important parts of their lives. There were no quick and easy breakthroughs, just a realistically slow buildup of trust. It was especially sweet to see how far Brandon came by the end of the book. I also loved how working with them gave Chance the purpose in life that he hadn't realized he had been searching for. He also was able to put his own spin on the program and make a proposal that would help others like him. I hope to see more of it in later books.