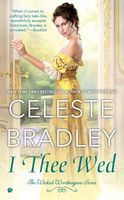 Series:
Wicked Worthingtons
(Book 4)
Intelligent and driven, Orion Worthington aspired to be like his mentor, the acclaimed scientist Sir Geoffrey Blayne. Logically, Sir Geoffrey's daughter would be Orion's perfect match. So why can't he keep his mind off the unruly girl who works in Sir Geoffrey's lab?
Orphaned fire-cracker Francesca Penrose hopes that London is modern enough to accept her brilliant mind despite her womanhood. But she can't help noticing Orion's mind...or his body.
So they decide to run an experiment: if they give in to their passions, their attraction will simply fizzle out, with no impact on their hearts...right?
Another fun Worthington tale. Orion is the scientific one in the family. He is logical and has walled off his emotions. He craves the peace and order that is the very opposite of what can be found in his home, among his eccentric family members. So he accepts the invitation of Sir Geoffrey Blayne to become his lab assistant and stay at his home. There is also the possibility of winning the hand of Sir Geoffrey's daughter Judith, as well as gaining entry to the scientific community.
Francesca is Sir Geoffrey's niece, the half-English half-Italian daughter of his brother. She came to England to stay with this part of her family, after realizing that she doesn't fit in with her Italian family, who considers her "too English". Francesca is intelligent, having her own scientific aptitudes, but also passionate, sassy, and playful. She plans to avoid marriage and devote her time to her research.
Orion's arrival at the Blayne house has all the seriousness that he could desire, until he meets Francesca. He is immediately struck by her beauty and her fire, to the point where everything else fades away. He is supposed to work on specific research and also be available to escort Judith, but his mind keeps drifting to her. I loved seeing his confusion at being so affected by her. Francesca has made a small place for herself in the lab, the only place her uncle allows her to work. She is just as drawn to Orion. I loved seeing them argue their scientific viewpoints, all the time fighting the attraction simmering below. Francesca eventually proposes that they give in to their attraction, expecting that it will then be out of their systems and they can return to normal life. It doesn't quite work out that way, and what they experience only serves to increase their need for each other. Francesca's realization of her feelings coincides with an event that forces Orion to end his relationship with her. His own epiphany takes a little longer, but is in time to rescue both Francesca and their relationship.
Sir Geoffrey feels a little off from the very beginning. His attitude toward Judith is not one of a loving father but of a man who uses others for his own purposes. For a scientist he seems to be terribly uninvolved in the research that he is promoting and it isn't long before his actions become suspicious. I had a feeling about his plans for Orion and it turned out I was right. I ached for Orion when he discovered the truth and cheered for what he did next. I loved what he and his family came up with and I loved seeing Sir Geoffrey get what is coming to him. The ending was intense and pretty scary as it was occurring, and also provided some humor at the end.
The secondary characters were pretty good also. Judith was a foil for Francesca, so quiet and always doing her father's bidding. But there was a little more to her than first appeared, and I liked seeing some bits of rebellion. I really enjoyed seeing her finally go after what she wanted. My favorite, however, was Orion's little sister Attie. In previous books she has tried to sabotage her siblings' relationships, but she has matured a little bit here and instead settles on trying to influence it instead. Attie is scarily intelligent and fearless in her actions. Her appearances in the book tend to herald disaster or mayhem of some kind, usually caused by something she has done. I also liked seeing more of the Worthington family. They are still just as odd as ever, but their love for each other still shines through. I really loved seeing how they simply absorbed Francesca into the group and how much at home she felt with them.