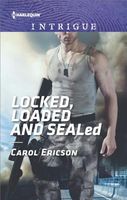 Series:
Red, White and Built
(Book 1)
A navy SEAL sniper turned bodyguard, he'll protect his target…at any cost…
The SEAL's secret assignment had been to protect a certain important doctor. But when the man is murdered, Austin Foley's mission changes. The navy sniper must now protect the doctor's protégé, the irresistible Sophia Grant, at any cost. For Sophia has information that could endanger the entire country. There's only one problem: Sophia has no idea what those secrets are.
With lethal terrorists on their heels, Austin and Sophia must embark on a covert operation. But it will mean placing Sophia even more in harm's way -- a sacrifice not even the steel-hearted SEAL may be able to make.
Good start to the new series, with plenty of action and romance. Sophia is the assistant to a doctor in Boston when she discovers him dead in his office and the office ransacked. Devastated by the loss of a man she thought of as a father, she is more than willing to help Austin find out who did it. Austin is a navy SEAL who had been sent to protect Dr. Fazal, but arrived too late. Instead he discovers Sophia, who may have information that the killers want, so he steps in to protect her. Unfortunately, Sophia has no idea what they are looking for, which puts she and Austin in the position of trying to figure it out and stay alive at the same time.
I liked Sophia. She is feisty and independent. Growing up in the foster system, daughter of substance abusers, she has learned to depend on herself. She's wary of trusting people, but her instincts tell her she can trust Austin. She's also able to think fast and adapt to what happens around her, which comes in handy during the story.
Austin was terrific. He and his team had helped get Fazal out of Pakistan when he was targeted by terrorists. He's not happy that he was too late to save him, and the failure bothers him. Realizing that Sophia is in danger gives him a chance to redeem himself in his eyes. Austin grew up in a large and loving family and demonstrates the gentlemanly manners he was raised with. I loved seeing how kind he was to Sophia and the respect with which he treated her.
I liked seeing the relationship grow between them. There's definitely attraction between them, but there is also genuine liking and respect. It was really sweet to see the way that Austin worried about Sophia, and took care of her. He also wants to be careful not to let his growing feelings distract him from keeping her safe. I liked that Sophia had good insights into Austin and understood his feelings about not saving Fazal. She's also quite sure that once the danger is over, Austin will be gone and she won't see him again. But when the shooting is all over, they realize that they belong together.
The suspense of the story was really good. From the moment Sophia discovers Fazal's body the amount of danger steadily increases. There is the question of what is the information they think she has? Does it have something to do with Fazal's secretive patient? Austin is pretty sure Fazal was targeted because of his connection to Austin and his SEAL team, but who is behind it? I enjoyed seeing Sophia become just as involved in the hunt as Austin is, in spite of his attempts to keep her safe. I was pretty sure I knew where the hidden information was, and turned out to be right. I was a bit more surprised by the identity of one of the bad guys, though it made sense once I knew. The final confrontation was intense, and I really liked Sophia's calm under fire reactions. I have a feeling that the pursuit of the main antagonist is going to be a theme throughout the series and I'm looking forward to seeing how it plays out.