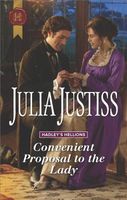 Series:
Hadley's Hellions
(Book 3)
"Duty can also be pleasure, Lady Alyssa…"
When politician Benedict Tawny set out to save Lady Alyssa from a nefarious plot, he never expected to find himself trapped in a compromising situation with the alluring lady! Now duty demands he propose…and claim her as his bride!
Tainted by his illegitimacy, Ben knows he can't give Alyssa the life of luxury she deserves. But if he can convince her to succumb to the undeniable heat between them, their convenient marriage might just lead to the love of a lifetime!
Very good book. Ben is one of four friends who came together while at school. Each of them had issues that made them outcasts with their peers, so they banded together. Ben's difficulty was that he was born the illegitimate son of a viscount. He suffered from jeers and taunts throughout his childhood and longer, and also watched as his mother was treated even worse. Fortunately, he was acknowledged by his father and received the benefits of a good education. The treatment he received has made him extremely cautious about his own behavior, and he has matured into a thoughtful and honorable man. When he overhears a plot to ruin a young lady's reputation, he takes action to warn her of the danger.
Alyssa is an independent and stubborn young woman. Thanks to the bullying behavior of her father and brother, she has no intention of marrying and putting herself under the control of yet another man. She is a talented artist and intends to set up her own household with inherited funds, if she can just convince her father. Ben's sudden appearance and the tale he tells startles her, and she is hesitant to believe him. But the truth is soon obvious, and Alyssa decides to take action of her own. She's a bit naïve about the prospect of succeeding, but determined to have her way.
I really enjoyed the development of their relationship. From the moment they met, the attraction between them was strong. Though he could have simply warned her and left, Ben feels compelled to stay nearby and watch over her. Their morning meetings so that he could reassure himself of her safety quickly turned into a burgeoning friendship. He is amazed by her talent, and truly impressed by her wit and intelligence, while Alyssa is drawn to his kindness and honesty in his conversations with her. When her plans for revenge against those who plotted her ruin go wrong, Ben comes to her rescue and gets caught in a compromising position with her. Alyssa is horrified that his chivalry forces him to propose, and she is adamant in her refusal, not wanting to ruin his life. She has no confidence in her ability to be the kind of wife he needs.
Her stubbornness backfires on her, and her father's actions are especially cruel and inhumane. When Ben discovers what is happening, his reaction is immediate. I loved seeing him take charge. His attraction to Alyssa and his appreciation of her mind and talents convince him that a marriage between them can work. Alyssa is the one who needs to be convinced, and it isn't easy. The attraction she feels for him scares her, and she fears that giving in to it will lead her to lose her sense of who she is and what she wants to do. I loved that Ben promises her that there will be no intimacy until she wants it, even though resisting his attraction to her is a monumental task.
His patience and care for Alyssa is evident as he accompanies her on her travels. I loved seeing him earn her trust as he strives to keep his word. His efforts prove to be worth it when Alyssa is finally ready to give in to the steadily growing desire he inspires. However, neither is quite ready to give voice to their feelings, as their fears run deep. It takes a threat to Ben's career for them to realize what they have together. I loved her big moment at the end, when it is her turn to come to Ben's rescue.
There were some marvelous scenes showing Ben's determination to do whatever he could to ensure Alyssa's happiness. My favorite is the one in the lawyer's office, as Ben states his desire that Alyssa have full and sole control over her inheritance. The lawyer's reaction is priceless.
The underlying theme of how women were treated during this time was very well done. The nasty bet placed by Denbry only emphasized how helpless most women were against people like him. Alyssa's father and brother were another example of what they had to endure, with no true way to escape. There was also a theme of reputation, how important it was, and how fragile it could be. Denbry's method of revenge was truly devious and difficult to counter. Ben also had to deal with his own feelings about his past, especially after a surprise revelation by his mother. I loved his scenes with his father, and the changes in Ben that it showed.
I loved seeing the other Hellions and their wives. Their respect and support of Ben was great. I especially liked the way that Ben was able to enlist the ladies' help to make Alyssa more comfortable in a situation she dreaded. It was moving to see the way that they all banded together to deal with the threat against Ben.