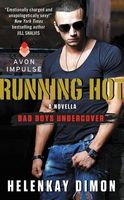 Series:
Bad Boys Undercover
(Book .5)
Camped out at a resort bar in Fiji, CIA operative Ward Bennett may look like he's on vacation but he's really deep undercover, hunting a dictator on the run. Ward may be on the job, but that doesn't mean there isn't time for the sexy female bartender. That is, until she drugs him.
When Tasha Gregory discovers the hottie on the barstool isn't who he pretends to be, her MI6 training kicks into gear, and she has no choice but to take him out. Problem is, Ward's not an easy man to put down for long. More than once, his interference almost blows her surveillance operation--and her ability to keep her heart to herself.
As the situation heats up, these two must decide whether they can trust one another--and quick. Working together might just make everyone safer, but getting close enough for comfort ... might just get them killed.
Good introduction to the
Bad Boys Undercover
series and how The Alliance got started. It starts with Ward regaining consciousness after a date with the sexy bartender he's been trying to charm all week. She has morphed from hot bartender to badass woman, and he's scrambling trying to figure out what is going on. I loved their confrontation, as he tries to maintain his cover, and she tries to get him to come clean. Ward isn't totally helpless, and uses his own skills to escape his bonds, but even that doesn't work out quite the way he expects. Finally rescued by his partner, Ford, they head off looking for her while continuing on their own mission.
Tasha works for MI6 and Ward for the CIA. Both of them are on the island for the same reason. When they finally catch up to Tasha, it takes some doing to convince her that working together is the way to go. Tasha has quite an attitude, thanks to dealing with men who have no respect for her abilities, and has no trouble letting Ward and Ford know what she thinks of them. There's some power struggling going on between Ward and Tasha, partly aggravated by the simmering chemistry between them, but they end up working very well together. Both of them have trouble with their attraction distracting them which gets them into a couple awkward situations.
The suspense and action of the story was really good. From the first page there was always something going on. I loved seeing all three work together to get the mission accomplished. The encounters leading up to the final confrontation were intense and showed both Ward and Tasha that they could depend on each other. The final confrontation had me wondering at times if they were all going to make it out in one piece. I liked the realism of things not going according to plan, and that injuries happen.
When it was all over Ward and Tasha had to deal with the aftermath. I ached for Tasha as Ward pushed her away. I enjoyed his big moment at the end, especially seeing a hint of vulnerability in his tough guy attitude. I also loved his comments about their future relationship, on and off the job.