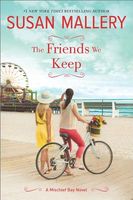 Series:
Mischief Bay
(Book 2)
After five years as a stay-at-home mom, Gabby Schaefer can't wait to return to work. Oh, to use the bathroom in peace! No twins clamoring at the door, no husband barging in, no stepdaughter throwing a tantrum. But when her plans are derailed by some shocking news and her husband's crushing expectations, Gabby must fight for the right to have a life of her own.
Getting pregnant is easy for Hayley Batchelor. Staying pregnant is the hard part. Her husband is worried about the expensive fertility treatments and frantic about the threat to her health. But to Hayley, a woman who was born to be a mom should risk everything to fulfill her destiny -- no matter how high the cost.
Nicole Lord is still shell-shocked by a divorce that wasn't as painful as it should've been. Other than the son they share, her ex-husband left barely a ripple in her life. A great new guy tempts her to believe maybe the second time's the charm…but how can she trust herself to recognize true love?
As their bonds of friendship deepen against the beautiful backdrop of Mischief Bay, Gabby, Hayley and Nicole will rely on good food, good wine and especially each other to navigate life's toughest changes.
Good follow on to
The Girls of Mischief Bay
. Nicole was a major character in that book, with Hayley and Gabby being secondary ones. Now all three are facing new challenges in their lives and having good friends like each other is vital to getting through their days.
Nicole is adjusting to being a divorced single mother. It isn't as hard as she thought it would be, because Eric had left the marriage well before the divorce. She is still frustrated by Eric's lack of interest in being a father to their son, and her battle with this runs through the book. Her son Tyler's fascination with book character Brad the Dragon earns him a chance to meet the author. Nicole is not as thrilled as she has a preconceived idea of what he is like, thanks to her ex. The meeting between Jairus and Nicole was hilarious. There were definitely sparks between them, ones that Jairus wanted to pursue. Nicole is hesitant. She doesn't trust her judgment any longer, and is afraid that if she gets involved with him, Tyler will be the one to pay the price. Jairus is awesome with Tyler and with all the children he deals with, which helps soften her heart toward him. I loved Jairus's patience with her fears. He was sweet and romantic. He's also pretty good at cutting through the garbage, and finally makes his stand with her. I loved his big moment at the end.
Hayley is a woman who is determined to be a mother. Unfortunately, she can't stay pregnant. After her fifth miscarriage, her doctor is adamant that trying again would likely kill her. Hayley doesn't want to hear it or believe it because it would be the death of her dreams of having her own child. She has a rocky relationship with her sister. Hayley was adopted and Morgan wasn't. Hayley always felt that her sister came first in her parents' hearts, and it has affected the way that Hayley looks at adoption as an option. All of the attempts at having a baby have put a strain on her marriage, and her refusal to accept the doctor's pronouncement causes a rift between her and Rob. It isn't until she nearly dies that she starts to accept the reality. I loved that Rob was there to support her, and that his love for her was still strong. His leaving was his last ditch effort to get her to see the truth. I ached for him and his fear of losing her, and frequently wanted to tell Hayley to open her eyes and look past her own wants. The solution to their problem was really sweet.
Gabby has been married to Andrew for a while. They have five year old twins, plus Andrew's daughter from a previous marriage. Gabby has been a stay at home mom since the twins were born, but has been counting the days until they start school and she can work again. I understood her frustration, because, although he was a nice guy and really loved her, Andrew doesn't seem to respect that she has her own needs. She was frustrated by the way he never backed her up in regard to anything having to do with Makayla, and even undercut her with their twins. She constantly has to deal with the girl's attitude. When a situation came up dealing with Makayla and a boy, it was pretty satisfying to see that Gabby had been right all along. But once again, Andrew comes down on Makayla's side and expects Gabby to give up her plans and needs. I was frustrated with her at the beginning because she was something of a doormat. I really liked seeing her finally stand up to Andrew and his expectations. It took him way too long to see the truth, but when he did, he accepted his responsibility. Makayla was quite a brat, but she did some serious growing up by the end of the book.

I really liked how Nicole, Hayley and Gabby were able to listen to each other's problems. They could dish out honest advice, or just be a sounding board while the talker worked out their issues. I loved the epilogue and catching up with how things had worked out for each woman.