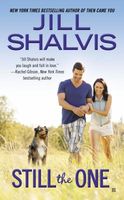 Series:
Animal Magnetism
(Book 6)
Darcy Stone is game for anything--except sexy Navy vet and physical therapist AJ Colten, the guy who'd rejected her when she'd needed him most. Now the shoe is on the other foot and he needs her to play nice and help him secure grants for his patients. Unfortunately Darcy can't refuse. She needs the money to fund her passion project: rescuing S&R dogs and placing them with emotionally wounded soldiers.
AJ admits it--Darcy is irresistible. But he's already been battle-scarred by a strong-willed, vivacious, adventurous woman like Darcy, and he's not making the same mistake twice--until he and Darcy are forced to fake a relationship. Growing closer than they'd ever imagined possible, Darcy and AJ have to ask themselves: how much between them is pretend? What's the real thing? And where does it go from here?
Really good book. We met Darcy in her brother Wyatt's story,
Then Came You
. She is recovering from a very bad car accident that put her in a wheelchair. Thanks to the hard work and determination of AJ, she can walk again. The two of them have quite a history, and the sparks between them fly hot and fast.
First impression of Darcy was that she could be quite a brat. She doesn't like to accept advice and can be rather snarky and not very nice when she talks to AJ. She puts forth a very independent attitude, but she's also got a vulnerable center, and a lot of that attitude is a way to protect herself. Her parents were mostly absent in her life, finding their careers more important. She has never felt wanted or needed, or even loved, and has trouble accepting it when it is offered. She has been attracted to AJ for a long time, but the one time she made advances to him he turned her down. Since then things have been tense between them, even though they work together.
AJ is a physical therapist who has a true calling. He frequently continues therapy work on patients even when their insurance runs out, because he wants the best for them. He has the opportunity to get a grant to continue his work, but needs to take a former patient along as witness to his work. When his first choice bows out, AJ is left with asking Darcy. He's hesitant because of the tension between them. He's been attracted to her for years, but she's his best friend's little sister, and then she was a patient, which makes her off limits. Plus, he's been burned once by a woman who couldn't get past her issues and he didn't want to risk the same kind of hurt. I liked that he knows how strong and amazing Darcy is, knows when to sympathize and when to push, and doesn't coddle her.
The trip to Boise only serves to increase the sparks between them. Darcy goes a little overboard with her "help" and implies that there is a romantic relationship between her and AJ. Add in a snowstorm that strands them at the hotel and their inclusion in a team building exercise, and the sparks that fly between them burst into flame. I loved seeing AJ's protectiveness and care for her as she battles the memories of her crash brought on by the storm. Their coming together was spicy and sweet, and left both of them rattled by how it affected them.
I liked that AJ was ready to embrace how he felt. The problem he had was that Darcy was afraid to believe that he could really care for her. I loved seeing him patiently wear down her walls. Then a partially overheard conversation sends her running, believing she's been rejected again. I ached for her and how devastated she was. Poor AJ was completely unaware of what had happened, and confused by her actions. It was great to see his determination to fix whatever had happened, and I loved his big moment at the end. I can't wait to see more of them in later books and see how they are doing.
There was also a secondary storyline involving Darcy's rescue of S&R dogs that are no longer useful or have other problems. Her determination to save and many as possible and turn them into therapy dogs show just how big a heart she really has. I loved seeing her match dogs with just the right person, as her insight always seems to be spot on.
I also liked the other characters. Darcy and her siblings are still repairing their relationships with each other after suffering from the effects of their parents' neglect. Wyatt and Zoe tend to be a bit overprotective, which grates on Darcy and her sense of independence, but they are there for her when she needs them. Darcy also has a good friend in Xander, local tattoo artist and bad boy. Unfortunately, she doesn't see that he really wants more than to be just friends, though the interactions between him and AJ should have been a clue.
I loved the humor that wound throughout the book. There were a couple of hilarious scenes involving animals, including an office scene with Darcy and a parrot, and another involving puppy obedience training. The conversation between Darcy and AJ on the trip to Boise was a riot, covering everything from her eating habits to her sniping at him.