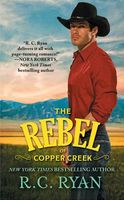 Series:
Cowboys of Copper Creek
(Book 2)
A love worth fighting for . . .
The last thing widow Juliet Grayson needs is a man in her life. Between caring for her two young sons and maintaining her husband's ranch, her hands are more than full. Then she meets Griff Warren. With his quiet strength and his easy way with her boys, she's tempted to trust him. But if there's anything she's learned, it's that love only leads to heartbreak.
Former Marine Griff Warren never thought he'd settle down. Rebellious and proud, he's always been on his own . . . until the father he never knew he had died, leaving him with land that is his legacy and brothers to share the load. He doesn't need more than that. But Juliet touches something deep inside him-and he wants nothing more than to protect her and her sons. Now if only he can convince her to take a second chance at true love.
Very good book, filled with love, family, friendship and a bit of mystery. Griff grew up never knowing who his father was and resenting it. He had a temper as a kid, which got him into a lot of trouble. When he grew up he joined the Marines, giving him a sense of belonging. Shortly before she died, his mother contacted Griff's father and told him about Griff, but before they could meet, Bear MacKenzie was murdered. However, Bear's wife and two sons welcomed Griff into the family with open arms. After leaving the Marines, Griff settled into learning how to be a rancher and part of a family.
Juliet is a widow with two young sons. Her husband had been a Navy pilot who died months after injuries received in a crash. He left his family's ranch to Juliet and his sons. She is determined to preserve the ranch, and starts by turning it into a therapy ranch for wounded veterans. She has more than enough to keep her busy and no desire to add a new man into her life.
Griff and Juliet meet through one of her therapy patients who is a former comrade of Griff's. The first meeting doesn't go all that well as she mistakes him for someone else. But under the antagonism is an instant attraction that neither one can deny, though both try to resist. Juliet feels guilty and disloyal to her late husband every time that she feels something for Griff. At the same time, his obvious connection with her sons warms her heart and makes her dream of what could be. Griff sees a bit of himself in her two boys, making him want to be there for them. He also finds himself wanting to make things easier for Juliet and discovers a growing sense of rightness the more time he spends with her. When threats and acts of vandalism put her and the boys in danger, Griff's sense of protectiveness steps in to take care of the family.
I loved Griff. I ached for him as a kid with the anger issues caused by his feelings of abandonment. I understood his need to confront his father. I really enjoyed seeing him take to the ranch life. I loved how he accepts and has been accepted by his new family. He's still feeling his way a little bit, since he's never had anything like it before. There are several great scenes with his brothers and grandfather, where the love and respect are obvious under the laughter and teasing. He was a bit stunned by the strength of his attraction to Juliet. I also loved seeing him with Ethan and Casey. He always seemed to know just how to talk to them. Best of all was his determination to look out for Juliet. He was a bit surprised by how deep the need was. It was sweet to see how he quickly came to put their needs ahead of his own. I loved seeing him bring her into the loving embrace of the MacKenzies.
Juliet was great, too. She hasn't had it easy over the last several years. Taking care of her husband after his injuries, with a three year old son and pregnant with another had left her reeling after his death. She was determined to follow his wishes and raise his boys on the family ranch, even though she knew nothing about ranching. She has a giving nature, which leads her to turn part of the ranch into a place of therapy for wounded warriors. She has shut herself off from any new relationships, first because she would feel guilty, and second because loving and losing is just too hard. She's overwhelmed by everything that needs doing, but she digs in and does her best. She has a bit of temper of her own, as shown in her initial meeting with Griff, but mostly she's pretty even-keeled. She's a terrific mom who puts her kids needs ahead of her own. She also has a good sense of humor and a kind heart, which shows in her dealings with her wounded warriors.
I loved the development of the relationship between Griff and Juliet. The chemistry is hot from the first, and it takes a bit for Griff to realize he needs to back off a little or risk scaring her off completely. Juliet fights what is growing between them because of her fear of moving on. Trying to keep things to just friends has the opposite effect. I loved seeing the boys' efforts to make Griff part of the family, as his frequent presence on her ranch begins to feel normal. Even when she tried to push him away, Juliet would end up getting closer. As the strange things happened on her ranch, she found herself more willing to lean on his strength and accept his help. It took a little while for each of them to accept what they were feeling, then they had to find the courage to speak up. I loved Griff's big moment at the end, and his inclusion of Ethan and Casey.
There is also some trouble that wends its way through the book. First is the ongoing mystery behind the murder of Bear MacKenzie. It is mentioned in this book, but there is no progress toward the resolution of it. The main mystery is the trouble that Juliet is experiencing. There is a wrangler that makes unwanted advances, and makes threats after his attempts are thwarted. Threatening phone calls and vandalism on the ranch have everyone on edge until the man can be caught. Then her son Ethan is kidnapped. Everyone thinks they know who it is, until an unexpected twist shows a different player altogether. I suspected this one was going to be trouble, but didn't expect that much. The final confrontation was intense and very scary. I loved how it was Griff's Marine experience that helped him save the day. There was also a brief mention of the family lawyer's son and some papers, where I got the feeling there was something more going on. I didn't like him at all.