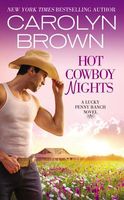 Series:
Lucky Penny Ranch
(Book 2)
Let's give 'em something to talk about…
If gossip is the lifeblood of a small town, then Lizzy Logan has been its beating heart. After being dumped by her fiancé for another woman, she could have decided to crawl under a rock. But no, she'd rather really set tongues wagging by "moving on" with one of the hottest cowboys in Texas, who happens to live next door at the Lucky Penny Ranch. Those busybodies don't have to know it's actually all pretend. And just because Lizzy has no aim to tame her wild, blue-eyed neighbor doesn't mean she can't enjoy the ride of her life.
Toby Dawson never was and never will be the settling-down type. But what harm could there be in agreeing to be Lizzy's pretend boyfriend? They'll put on a show for a few weeks and be done. Yet the more he gets to know Lizzy -- really know her -- the harder it is for him to keep his hands off of her in private. Soon this rough-and-ready cowboy is hoping to heal Lizzy's bruised heart and turn their fake affair into a true romance…
Fun book. Toby is the second partner in the Lucky Penny Ranch. He is determined to help his brother and cousin turn it into a successful cattle ranch. He met Lizzy when his brother Blake married her sister Allie (
Wild Cowboy Ways
). Lizzy had recently been dumped by her wannabe preacher fiancé and is still feeling the effects of the gossip surrounding it. There is an immediate spark between the two of them, and they begin a secret fling. For three weeks they get together whenever they can. But after three weeks, Lizzy realizes that she wants more from a man - she's ready to look for her forever man, and Toby isn't it. He's made no secret of the fact that he's not the settling down kind. But they remain friends.
Then Lizzy gets word that her ex-fiancé is coming back to town. She's over him, but the gossips are having a field day, making it look like she's still moping over him. And Toby is having problems with one of the women in town aggressively pursuing him. So they decide to have a pretend relationship with each other until after the Fourth of July.
I loved the relationship that grew between them. It started out a bit backwards, with the short affair that ended, then they dated, but it worked for them. The sparks are still there, but they do their best to ignore them. Instead, their pretend dating gives them a chance to actually get to know each other. Though Toby comes across at first as a real player, he's never mean about it. All the ladies he's with know the score and everyone ends up happy. I loved seeing the changes in Lizzy from the first book, where she tried to make herself over to fit Mitch's requirements. Now she's determined to be the woman she was meant to be, and honest to herself. It only takes a couple "fake" dates for them to realize that they truly like each other. Toby is rather confused by the discovery that being with Lizzy doesn't make him want to head for the hills, that he's actually thinking of long-term with her. There are several funny parts where he is mentally arguing with himself about what he sees happening to himself. Lizzy has the same problem. She knows Toby's reputation and doesn't want to get her heart broken by falling for him. But the more time she's with him, the more she wants it all.
It was sweet to see how Toby's romantic nature came out. He's a little bit vulnerable because Lizzy is the first he's wanted a real relationship with and he's afraid of screwing it up. His efforts to woo her are sweet and romantic and just right for the woman she is. He also has a pretty good protective streak, and is there to back her up when she needs it. I loved Lizzy's side of the story. She is sassy, always ready with a comeback, loyal to her friends and family. Having Toby for a fake boyfriend will help her fight back against the attitudes of some of the townspeople. I loved seeing the two of them playing it up for the ones who are especially judgmental. It was even more fun when they decided to make their relationship real. Their dates would try to be romantic, but there was usually something, be it a skunk, a tornado, or an accident that would throw a complication into the works. Each time it brought them closer. Even their one argument was short-lived because one realized they were in the wrong and admitted it, and the other didn't hold a grudge. As it got closer to time for the festival and Mitch's return to Dry Creek, Toby got really nervous that Lizzy might go back to him. I absolutely loved the meeting between Lizzy and Mitch, and seeing her stand up to him. There was a nice little twist involving his new girl, too. I also loved the surprise that Lizzy had for Toby at the very end.
I loved the small town characters too. Once again Lucy is there to stand up for one of the Logan girls against the local self-righteous crowd. She also doesn't hold back from stirring the pot a little bit. Dora June and her crowd were a right pain in the neck and I loved seeing Lizzy and Toby pushing back against them. I loved the scene where it was her against the Logan girls (and mom Katy) and had to laugh at the consequences of her actions. There were also those who were against the Dawsons and their plans for the Lucky Penny. I loved seeing Blake and Toby's determination to prove them all wrong. It was great to see more of Blake and Allie and also Deke. He's as much of a player as Toby and I can't wait to see him fall.