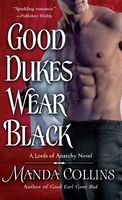 Series:
Lords of Anarchy
(Book 3)
LOVE IS ALWAYS A WILD RIDE.
A writer for the Ladies Gazette, Miss Ophelia Dauntry's passion is her pen. So when she sees a fellow writer kidnapped before her eyes―and the trail of evidence leads to the Lords of Anarchy―Ophelia vows to find her friend and take down the notorious London driving club in her column. But before she can argue her case, she needs the inside scoop from its newest leader: Piers Hamilton, the Duke of Trent.
Headstrong, handsome Trent joined the Lords of Anarchy after a decade in the British Army. He's made it his business to tame the misbehavior within the driving club―and the infuriatingly attractive Ophelia is only getting in his way. The deeper she digs into the case, the more she puts her own life at risk. Can Trent convince Ophelia to trust him to seek justice…and find protection, and passion, in his arms?
Very good book. I missed reading the first two books in the series, but this one stood by itself very easily. That being said, I do want to go back and read the others. Ophelia is an independent and stubborn young woman who writes for the Ladies Gazette. Her friend Maggie is also a writer for the same publication. When Ophelia witnesses her friend being kidnapped, the day after an argument with her husband, Ophelia is determined to find out what happened to her. She believes it is connected to the Lords of Anarchy driving club, and confronts their new leader with her suspicions.
Trent recently took over leadership of the club, after the two previous presidents were found to be breaking the law. He is determined to bring respectability back to the club, and having Ophelia accuse them of kidnapping isn't going to help.
Ophelia and Trent know each other somewhat as they have mutual friends, which makes it a bit easier for Ophelia to go to Trent. His immediate agreement to help shows her that he had nothing to do with Maggie's kidnapping. As they spend time together trying to find out what happened to Maggie, their casual friendship begins to grow into something more.
I loved both Ophelia and Trent. He is honorable and protective. He has only been a duke for a couple years after being a soldier during the war. He envies his friends their happy marriages, and wonders if he'll find someone who wants him for himself, not his title. Ophelia had not been someone he considered before, but he finds himself captivated and fascinated by her. I loved that he had a great deal of respect for her intelligence, and though her stubbornness sometimes frustrated him, didn't try to shut her out of the investigation. Ophelia is smart and very loyal to her friends. She's determined to find out what happened to Maggie. She quickly trusts Trent to help her do so.
The development of their relationship is really good. They have a basis in friendship, and a chemistry that makes itself known the more time they spend together. I loved how Trent realized quickly that he wanted Ophelia in his life, though it took a little longer for him to realize that it was love. There were a couple of really good scenes with his friends Freddy and Mainwaring as tease him about what they see. I also enjoyed his bouts of jealousy regarding her other suitor. The scene at the ball was especially fun, as circumstances get a bit out of control. I really enjoyed how Ophelia saw her feelings for Trent grow from just friendship, but was a bit worried about what his feelings for her were. She was already fighting off the boring suitor that her mother was pushing on her. I especially enjoyed that there was no great misunderstanding that drives them apart before they get their happy ending.

The mystery was quite interesting and convoluted. As was possible in that era, Maggie is taken off the street by men having an order that she is to be put in an insane asylum. As she was obviously not mentally ill, Ophelia is certain that there is more behind it. There are multiple twists and turns, as suspects are discovered and dismissed. Each time I thought that I knew who it was, something would happen to change my mind. The final confrontation was intense. I really liked that Ophelia had an active part and wasn't just waiting around to be saved.