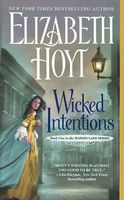 Series:
Maiden Lane
(Book 1)
A MAN CONTROLLED BY HIS DESIRES . . .
Infamous for his wild, sensual needs, Lazarus Huntington, Lord Caire, is searching for a savage killer in St. Giles, London's most notorious slum. Widowed Temperance Dews knows St. Giles like the back of her hand-she's spent a lifetime caring for its inhabitants at the foundling home her family established. Now that home is at risk . . .
A WOMAN HAUNTED BY HER PAST . . .
Caire makes a simple offer-in return for Temperance's help navigating the perilous alleys of St. Giles, he will introduce her to London's high society so that she can find a benefactor for the home. But Temperance may not be the innocent she seems, and what begins as cold calculation soon falls prey to a passion that neither can control-one that may well destroy them both.
A BARGAIN NEITHER COULD REFUSE
Excellent book that drew me into its world from the very beginning. Temperance is a widow who runs a foundling home and school along with others of her family, in the slums of the St. Giles section of London. When the book opens, she is heading back to the Home with the newborn baby of a dead prostitute. She happens across Lord Caire, bent over the body of a man who had just attacked him. Later that evening, Lord Caire appears in her sitting room, with a proposition for her. If she will be his guide around St. Giles, he will endeavor to introduce her to members of society who could serve as patrons for the financially struggling Home.
I liked both Temperance and Caire. She is an independent woman who does what she feels is right, no matter what others say. She loves her family, and will do what she must to keep their Home running. She is also haunted by something in her past, an event that has caused her to ruthlessly protect herself from feeling things too deeply. She also has a passionate side that she keeps buried deep.
Caire is a man with a dark reputation, including his bedroom proclivities. Not only doesn't it bother him, he seems to take a fair amount of delight in it. He's cynical about his fellow man and seems to delight in scandalizing society. He is searching the slums of St. Giles, looking for the person who brutally murdered his mistress, not because he loved her, but to try to give her life some meaning. Caire is also haunted by his own issues, believing himself to be incapable of giving or receiving love, and physically unable to bear being touched.
Their chemistry is incredible from the very beginning. Temperance isn't happy about the attraction to him, as it only serves to prove to her that she has a wicked nature that needs to be controlled. Caire is much more willing to pursue the attraction he feels for her. He's very good at getting her worked up, and it isn't long before they are finding physical satisfaction together. Temperance is surprised to find that the more time she spends with him, the more she actually likes him. She also starts to see that there is a lonely, vulnerable man under the sordid reputation, just as Caire gets to know the passionate woman behind the do-gooder reputation that she has. That knowledge also comes at a price, and an exchange of heated words ends in unexpectedly hurt feelings. It looks like their chances of happiness together have been ruined, until a near tragedy brings them back together. I loved Temperance's big moment, in which she goes all out to show him how she feels. The depth of trust and emotion was incredible and truly moving.
The suspense of the story, the search for the murderer, was really good. I loved Caire's determination to find out who it was, no matter the motivation. It was really interesting to see how a woman like Temperance was actually able to get more useful information than a large, intimidating nobleman could. The danger intensified as they got closer to the discovery. I was surprised by who it turned out to be. The final confrontation was intense, extremely dangerous, and nearly fatal for Caire. There were a couple of appearances by the mysterious Ghost of St. Giles, including a vital one at the end. I have a couple suspicions on his identity, and look forward to reading the next book to find out.
I also enjoyed the various secondary characters. Temperance's brother Winter was fascinating. He is protective of her, but also seems to be accepting of her independence. I also got the feeling that there is more to him than the teacher and foundling home shows. Her sister Silence is another interesting sibling. She is shown to be very much in love with her sea captain husband, to the point where she does something reckless when he gets into trouble. I ached for her over his reaction. Their situation was left unresolved, so I hope to see them in a later book. Lady Hero is another one who fascinated me. She is independent, and has interests outside of those expected of young society women. I liked how she and Temperance connected so quickly. I also enjoyed how she and Caire's mother came to the rescue of the foundling home at the end. Caire's mother is one who I wasn't sure of at the beginning, as she seemed rather cold and disapproving, but by the end she had grown on me.
A fascinating part of the book was a look at the seamier side of London. There was very little of the usual balls and other society pursuits. Instead, there was a realistic portrayal of the hardships of the prostitutes, orphans, and other residents of St. Giles.

*copy received from Netgalley in exchanged for honest review.