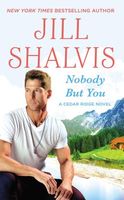 Series:
Cedar Ridge
(Book 3)
SOMETIMES YOU CAN GO HOME AGAIN . . .
After an overseas mission goes wrong, Army Special Forces officer Jacob Kincaid knows where he must go to make things right: back home to the tiny town of Cedar Ridge, Colorado. All he needs to scrub away his painful past is fresh mountain air, a lakeside cabin, and quiet solitude. But what he discovers is a gorgeous woman living on a boat at his dock.
Sophie Marren has nowhere else to go. She's broke, intermittently seasick, and fighting a serious attraction to the brooding, dishy, I'm-too-sexy-for-myself guy who's now claiming her dock. Something about Jacob's dark intensity makes her want to tease-and tempt-him beyond measure. Neither one wants to give any ground . . . until they realize the only true home they have is with each other.
Excellent story of friendship, love, family and trust. Jacob has been away from his family for ten years. While growing up, he couldn't wait to shake the dust of the small town from his feet. He had been expecting his twin brother Hudson (
My Kind of Wonderful
) to go with him, and when Hud refused it created a rift between them. A devastating loss has sent Jacob home to heal and to try to come to terms with his past. He knows what he has to do, he's just having some trouble summoning up the courage to do it. So he's hiding out at a cabin on the lake when he discovers he's not alone.
Sophie has her own healing to do. She's twenty-five, newly divorced, and broke except for the boat she's living on. And she hates boats. When she divorced Lucas, she didn't want anything from the lying, cheating snake, but the judge told her she needed to get something, she took the one thing that meant the most to him - the boat. She doesn't have the money to pay to dock it, so she's been sneaking around the lake, tying up at isolated or vacant properties. Then she discovers that this one isn't vacant any longer.
I liked Jacob. He's realized that he was an idiot when he fought with his brother and allowed his pride to keep them apart. He loves his family, even though he hasn't been able to show it, except to his mother (which was a whole other issue). He has a really tough shell, thanks to his time in the military and the things he's seen, but he also has a pretty soft and vulnerable center. This is especially noticeable in his interactions with his family, when he finally goes to see them. It also shows in his relationship with Sophie.
I liked Sophie, too. She seemed kind of flaky at first, but I quickly realized that she's a lot stronger than she thinks she is. She had grown up with a father she was always trying to connect with, and when she couldn't she took her search for love elsewhere. She ended up marrying a selfish jerk who slept with any female he could, and who put her down constantly. I loved seeing her take her life back, including dealing with some of her ex's bimbos. She isn't looking for another shot at love, having given up on men altogether. Then she meets Jacob, who gets past her walls.
I loved the development of their relationship. The attraction between them is strong and it doesn't take long before they give in to it, but they tell themselves they're just in it for fun. Neither thinks they are capable of a real relationship. On top of the physical attraction, I loved seeing them develop a friendship. It was fun to see the banter between them, especially when Sophie lets her inner snark loose. She brings a fun and lightness to his life that has been missing for a long time. Jacob watches out for her, even when she doesn't want it, but also is there to back her up when she needs it. They both tried to resist the deepening of their feelings. Neither thinks they deserve that kind of happiness anymore. It isn't an easy journey, and both of them make mistakes along the way, but in the end they realize that they are much better together than they could ever be apart. The ending was really sweet, as Jacob's return when his tour was up showed his vulnerability where Sophie was concerned. The epilogue was a terrific wrap up.

The family relationships were also a huge part of the story, the biggest being Jacob's need to mend his with Hud and the others. Things went pretty smoothly with most of them, though each had their own way of letting Jacob know what an idiot he had been. The sweetest and feistiest was his reunion with his sister Kenna, who also had no trouble laying a big guilt trip on him. The hardest was trying to mend fences with Hud. In the previous book we had seen how worried Hud was about Jacob's safety, and his own guilty feelings about their split. Jacob completely blames himself, but has trouble finding a way to get through to Hud, who isn't very cooperative. I liked seeing how Sophie helped bring them together, though the final effort wasn't exactly intentional.