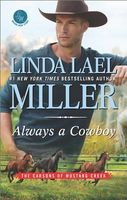 Series
Carsons of Mustang Creek
(Book 2)
He's the middle of the three Carson brothers and is as stubborn as they come -- and he won't thank a beautiful stranger for getting in his way!
Drake Carson is the quintessential cowboy. In charge of the family ranch, he knows the realities of this life, its pleasures and heartbreaks. Lately, managing the wild stallions on his property is wearing him down. When an interfering so-called expert arrives and starts offering her opinion, Drake is wary, but he can't deny the longing -- and the challenge -- she stirs in him.
Luce Hale is researching how wild horses interact with ranch animals -- and with ranchers. The Carson matriarch invites her to stay with the family, which guarantees frequent encounters with Drake, her ruggedly handsome and decidedly unwelcoming son. Luce and Drake are at odds from the very beginning, especially when it comes to the rogue stallion who's stealing the ranch mares. But when Drake believes Luce is in danger, that changes everything -- for both of them.
Good book. Second in the Carson series, this book is about Drake, the middle brother. Older brother, Slater (
Once a Rancher
), is the producer of documentaries, and younger brother, Mace, is in charge of the family winery. Drake runs the family ranch, which is just right for him. The land and its traditions are his life's blood. Not to say there aren't challenges to go along with it. For the past year they have been losing calves to a mountain lion, and there's a herd of wild horses whose stallion has been stealing Drake's mares. As icing on the cake, he finds a beautiful woman trespassing on his land.
Luce is a graduate student working on a paper about how wild horses interact with ranch animals and humans. Drake's mom, an old friend of Luce's mom, has invited Luce to stay at the ranch while she does her research. This puts her into Drake's path far too often for either's comfort, at least at the beginning.
I loved the first meeting between Drake and Luce. He sees that wild stallion close and is determined to catch him and move him away from the ranch and his mares. He doesn't catch him, but he does scare them off, bringing on the wrath of Luce, who has been observing them all day. I loved seeing her stand up to Drake and fuss at him. At the same time, he listened but wasn't overly receptive to her rants. But underneath the confrontation is a different kind of spark, the spark of attraction, which disturbs them both. They go head to head a few times over his resistance to cooperating with his research, and her insistence that she's well able to take care of herself out on the range. They eventually work out a compromise that has them spending time together, time that brings their simmering attraction to a full boil.
I really liked seeing the two of them get to know each other and learn to respect what the other does. Once they get past their initial antagonism, Drake's true personality really begins to shine. He is funny, charming, passionate, and just a bit old-fashioned. He was very protective, especially when the mountain lion got bolder. He pretty quickly realizes what it is he feels for Luce, and is determined in his pursuit of her. Luce knows what she's feeling, too, but she has her life planned out, and staying in rural Wyoming isn't part of it. I enjoyed the realism of seeing two people who loved each other work to figure out how to make things work between them. The wedding scene was sweet, and his honeymoon plans were super romantic.
As always, the secondary characters added extra depth to the story. My favorite was ranch foreman Red. He had some great cowboy sayings, and seems pretty ordinary, until you get to see a bit of his private life. I also loved Drake's mom and her not always subtle attempts to get him and Luce together. I liked seeing more of Slater, Grace and Ryder, and how they are settling in to life together. Ryder has a couple of good scenes with Drake and Luce, too. I enjoyed the teasing that Mace inflicts on his brothers, and that they aren't slow about returning the favor. Though they bicker and snipe, they are always first in line to support each other. I also liked seeing Lettie get involved in their wild horse problem. She is a force to be reckoned with. I'm looking forward to reading Mace's story.