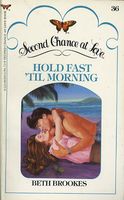 Series:
Second Chance at Love
(Book 36)
By day, dark-haired engineer Cait Monahan was the only woman for the job--troubleshooting a behind-schedule pipeline in Argentina. By night, she was a woman alone, tormented by dreams of her husband's tragic death. In her need, she reached out to Dominic Tobbar, whose kisses enflamed her senses and melted the barrier of the past. Cait was tough on the outside, but vulnerable underneath. Could she ever learn to love again?
Very good book. It is more than thirty years old, but still holds up well. Cait is a strong woman doing a job that few women at that time did. She is an engineer, assigned as the replacement project supervisor on a job that is behind schedule. She is met by Dominic Tobbar, one of the section supervisors, who was not expecting a woman.
First impression of Dominic is of a foul-tempered womanizer. He looks at Cait as if she's there for his pleasure, until he discovers who she is. He's full of snide comments, and appears to have no respect for her position. He's also a very good looking man, with a sense of barely leashed passion. Cait is stunned by her physical reaction to him, something she hasn't felt since her husband's tragic death a year earlier.
Cait meets her second in command when she arrives at the work site. Campos is quite effusive in his comments and compliments to her, which sends up a bit of a red flag to her. The next morning, Cait gets an early start and Campos fills her in on the problems with the site. He is quick to lay a lot of blame at Dominic's feet, accusing him of not being a team player. A confrontation a short time later reinforces those statements, leaving Cait wondering if she's going to have to fire Dominic. But what he has to say makes sense to her, and a check of paperwork proves his point. I liked that Dominic was man enough to apologize to her, and try to make amends. It is the beginning of a growing trust between them.
There is also an intense attraction there that Cait doesn't quite know what to do with. She is still grieving the loss of her husband, suffering nightmares where she relives his death. Dominic is just as drawn to her, which confuses him. He has a very low opinion of women in general because of a bad marriage and the other women he's been exposed to. Cait's openness and honesty is something he's not experienced before. He is unable to resist her, and finds himself kissing her at every chance he gets. He also turns out to be more sensitive than he initially appeared, and is there for her as Cait works her way through her grief.
I enjoyed the development of their relationship. Cait quickly discovers that she can trust him, and is able to share her problems with him. Dominic also comes to respect Cait and her abilities at work. As they work together to bring the project back on schedule, they got to know each other very well. I loved seeing them share their pasts, mistakes and all. It was really sweet to see Dominic uncover the woman under the surface. I loved the scene when he took her to his ranch and showed her more of who he is. It was easy to see that they were falling for each other, but there are still obstacles to overcome. I ached for Cait as her love for Dominic grew stronger, but so did her fear of losing him the way she lost her husband. The fight against Mother Nature at the end brought her fears to the forefront. I ached for her as she faced those fears, and loved Dominic for being with her every step of the way. The ending was romantic and triumphant for both of them.
Throughout the book was the secondary story of why the project was behind schedule. It was pretty obvious from the beginning that Campos had something he was trying to hide. He attempted to deflect Cait's attention to the problems he attributed to Dominic, but she quickly realized there was more to it. I loved the arrival of her friend and coworker Louie and his quick agreement that there was something fishy. I really liked how he, Cait and Dominic worked so well together and were able to figure out what was going on. I especially loved seeing Cait stand up in front of the board and make her case so well. That too was extremely satisfying.