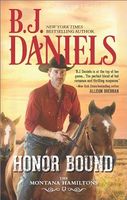 Series:
Montana Hamiltons
(Book 6)
Protecting her life will mean betraying her trust
Ainsley Hamilton has always been the responsible one of the family. As the oldest daughter of presidential candidate Buckmaster Hamilton, she's also a potential target. For months she's sensed someone following her. When an expedition to scout locations for a commercial takes a terrifying turn, she's rescued by a natural-born cowboy who tempts the good girl to finally let loose.
Sawyer Nash knows just how reckless it is to fall for someone he's gone undercover to protect. Yet masquerading as an extra on set, he starts to see beneath Ainsley's controlled facade. And with the election -- and a killer -- drawing closer, Sawyer stands to lose not just his job and his life but the woman for whom he'd gladly risk both.
Very good book and conclusion to the series. There are three main stories going on. The one that has been building since the first book, which is the story of Sarah Hamilton and why she has really "returned from the dead". Another is specific to this book and is the story of Ainsley and Sawyer, as is the search for a gang of jewel thieves that may be using the production company as a cover.
Ainsley is the oldest of the Hamilton girls and has been the one to watch out for the others after their mother died. She's tried to be a good example for them. A few years earlier she had felt the need for change, dropped out of law school and became a location scout for a production company that makes commercials. For the last several months she has had the feeling that she's being followed. She doesn't know who or why. When one of her location searches ends in a landslide, she feels lucky that a cowboy was there to save her. She finds him incredibly attractive and is tempted to let go of her good girl ways for a bit.
Sawyer wasn't there by chance. On medical leave from his job with the FBI, he's bored and willing to help out his old friend Sheriff Frank Curry when he's asked to protect Ainsley from a potential stalker. He signs on as an extra for the commercial to give him a reason to be near her. He doesn't expect to be so fascinated by all the facets of her personality or so attracted to her physically. He made the mistake of getting involved with a woman he rescued before and it didn't end well.
I enjoyed the development of their romance. Both of them are independent, intelligent and loyal to those they care about. There was also an immediate attraction between them, stronger than either had ever felt before. Ainsley decides that Sawyer is the perfect person to help her rid herself of a "problem" and Sawyer has a hard time resisting. And though he knows he shouldn't get involved, he finds Ainsley too irresistible. There are bumps in their road, though, as Sawyer's ex, also an FBI agent, is there too, working on the jewel thief case. She isn't happy to see Sawyer with Ainsley and does several mean-spirited things to keep them apart, at the same time trying to convince Sawyer to come back to her. When Ainsley finds out the truth of why Sawyer is there, on top of his connection to Kitzie, she's sure she has made a mistake. It takes a couple of life threatening events to bring them back together.
The various suspense threads were fantastic, with quite a few twists and turns. The stalker situation was intense, with the stalker getting more and more aggressive. Sawyer is pretty sure he has it figured out, but until he's certain he doesn't want to get too far from Ainsley. Just when you think he's got it all wrapped up, it turns out that there is more to the story. Ainsley's life is endangered even further by a stunt that Kitzie pulls, and it is a terrifying close call for Sawyer to show up in time to save her.
The jewel thieves case that Kitzie is working on was interesting. She and her partner had been working it for a while, and she finally feels like they are getting close. I enjoyed following along as they put the clues together. Kitzie's independence and competitiveness puts her in danger, and also risks the resolution of the case. There's a twist to the ending that infuriates Kitzie and doesn't show her particularly well. She does get a chance to redeem herself later.
The biggest story, however, has been the story of Sarah Hamilton. I have gone back and forth on her throughout the series, never quite sure whether I could trust her. It has come out that before she met and married Buck, she had been the leader of a revolutionary group called The Prophecy. In this book we learn more about her disappearance more than twenty years earlier and what was behind it. Now she is becoming more afraid of what is going to happen when Buck is elected president. I felt bad for her and her fears of what would happen when her memories fully returned, and was pretty impressed with her growing determination discover the truth. Her confrontation with her ex-lover and current leader was intense and showed just how dangerous he was. The final scene on election night was truly scary in how possible it could be in real life.
I also enjoyed following along with Sheriff Frank Curry and his wife Nettie. He has been such a big part of several series. He is a man who is always determined to protect the people he serves to the best of his ability, and will go to any length to do so. But he's also getting a bit burned out and wants to spend more time with his wife. It was fun to see that he's also realistic enough to know that a typical retirement is not for him. I loved the solution that he came up with, and the effect it has on Nettie also.