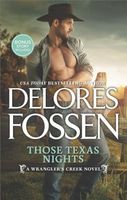 Series:
Wrangler's Creek
(Book 1)
The Granger siblings thought they'd left their ranching days behind, until fate sends them home to Wrangler's Creek, Texas -- and into the passionate arms of those they'd least expect…
It's some run of bad luck when Sophie Granger loses her business and gets left at the altar all in one day. Desperate to not appear jilted, Sophie begs Clay McKinnon, Wrangler's Creek's smoking-hot police chief, to pretend they're having an affair. But Clay refuses, leaving Sophie to retreat to the family ranch to lick her wounds.
Hoping to leave his disreputable past behind, Clay moved to Wrangler's Creek for a fresh start. But that looks unlikely when Sophie's ex-fiancé shows up married to Clay's impulsive kid sister. Overcome, Sophie resuggests the affair -- but this time for real. Clay is hesitant. City-girl Sophie isn't usually his type. But he can't deny the desire she elicits -- or his yearning to have her plant her cowboy roots for good.
Good small town romance filled with quirky characters, family drama, and a bit of suspense. It starts out with Sophie having a really bad day. Her fiancé ends their engagement on the day of the wedding, telling her that he doesn't love her anymore, that he's in love with someone else. Desperate to avoid dealing with her family, she sneaks out the church window and walks to the police station. There she tries to talk police chief Clay into pretending they are having an affair so that she can save face. He turns her down, but while at the office Sophie gets word that the family business is in trouble. Their chief financial officer is accused of embezzling and using the company for money laundering and has disappeared. The FBI is investigating, and has frozen all company and personal assets until they know whether the Granger siblings are in on it. This sends Sophie back to the family ranch to try to pick up the pieces.
Clay turned Sophie down for his own reasons. He came to Wrangler's Creek for a fresh start and to watch over his younger sister. Life is pretty quiet for him, except for battling the feral chickens that keep attacking him. And trying to deal with the incompetent workmen who are doing renovations on his house. And trying to escape the reminders of what drove him to Wrangler's Creek in the first place. The last thing he needs is to get involved with Sophie, even though the sparks between them are pretty hot.
Then life takes a turn for the really crazy. It turns out that the woman that Sophie's fiancé Brantley fell for is none other than Clay's little sister April. Not only are they in love, they've already married and are expecting a baby. Clay and Sophie are frequently thrown together and the sparks between them just grow hotter. They know that getting involved with each other is a bad idea. Sophie has her plans, which don't include staying in Wrangler's Creek. Clay is haunted by something from his past that won't let him be happy in a relationship. Then there's the fact that so many people are against them as a couple. Clay's sister April is the most vociferous, and still insecure about her marriage, also thinks Sophie is trying to get Brantley back. Sophie's brothers and best friend warn her against a rebound relationship. But the attraction is too strong, and Clay and Sophie decide that pursuing the attraction secretly will give them the relief that they need without having to deal with others.
Of course, in a small town, nothing remains secret for long. Also typical of small towns, rumors abound, with very little of them having any basis in truth. It was fun to see Clay and Sophie try to counter the rumors without giving away what was really going on. At the same time, their intention of a quick and secret fling is being overcome by the feelings that are growing between them, though they try hard to resist them. Clay fights because of the guilt that haunts him and doesn't want Sophie caught up in the consequences of that guilt. But when she is, Clay finally finds the motivation to stand up to his tormentor. He wants to protect her from the ugliness, and ends up being surprised to discover the depth of her trust in him. I loved her reaction when she had the whole truth. Sophie has her own issues, dealing with the fallout of her wedding disaster. Trusting her heart to another man comes hard, and having that man be so closely connected to her ex makes it even harder. I loved seeing her get over Brantley's betrayal and slowly open her heart again. It was occasionally frustrating to see them fight it so hard when it was obvious that they belonged together. I enjoyed the ending and seeing the two of them admit their feelings while at the same time realizing that their pasts will always have an influence on their future.
The secondary characters all add their own bits of fun and frustration to the story. At the top are April and Brantley, whose relationship was fast and furious and now they are dealing with the realities. April is flighty and insecure, which leads to some confrontations with Sophie, who she thinks wants Brantley back. Brantley seems pretty immature for a respected lawyer, as his actions regarding Sophie and their wedding show. His quick turnaround to marry April doesn't help the impression. There are times when he seems to be doing quite well as a husband and stepfather, but others where that immaturity rears its ugly head. Also present are Sophie's brothers, Garrett and Roman. Garrett has his problems with the business, what he really wants to be doing, and a marriage that is crumbling. He's protective of Sophie, but caught between a rock and a hard place regarding the future of the business. Roman has removed himself entirely from the family business, owns the ranch but doesn't want it and can't get rid of it. He has a very strained relationship with their mother and a son that he adores but is having problems with. There's also Sophie's best friend Mila, who has a unique way of dating, causing some moments of hilarity for the reader and dismay for Sophie and Clay. Mila's mother Vita is the local gypsy/witch and her solution for Clay's chicken problem is fun. She also provides a little hilarity in her involvement in their romance. There's a gossipy deputy, a pig farmer named Skunk, and handymen that aren't so handy.
Also included is a bit of suspense involving a missing CFO and money from the family business. They can't deny that the money is gone, and that Billy Lee is apparently the guilty party. But Sophie and Garret have a hard time believing in his guilt. The FBI has gotten involved and the hunt is on for the missing man. The only one who might have an idea where he is is best friend Arlo, the best friend and not-so-bright gas station owner. There's a hilarious scene where Sophie finds Billy Lee in an unexpected place, but loses him again, though not before getting Billy's side of the story. It does eventually get resolved, without too much angst.