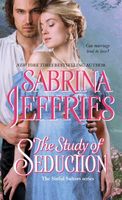 Series:
Sinful Suitors
(Book 2)
When Edwin Barlow, the Earl of Blakeborough, agrees to help his best friend's impetuous ward, Lady Clarissa Lindsey, in her time of need, he knows he's in for trouble. He's been hunting for someone to wed, and she'll just get in the way. Although captivated by the witty, free-spirited beauty, he fears she'd be all wrong as a wife...if she would even take such a gruff cynic for her husband. Yet he wants nothing more than to have her for his own.
Clarissa has no intention of marrying anyone not Edwin, whom she's sure would be an overbearing husband, and certainly not the powerful French diplomat stalking her. But when matters escalate with the diplomat, she chooses Edwin's gallant offer of a marriage between friends in hopes that it will deter her stalker. She expects nothing more than an amiable union, but their increasingly tempestuous kisses prove more than she bargained for. When her stalker's vow to expose the lovers deepest secrets threatens to destroy their blossoming attraction, will their tenuous bond withstand public ruin, or will Edwin lose all that's important to him to protect his bride?
Very good book. By the end of
The Art of Sinning
(Book 1), I had a pretty good idea that Edwin and Clarissa were going to be the next couple. The sparks flying between them were too obvious not to be acted on. At the beginning of this book, Clarissa's guardian and cousin, Warren, has to go on a trip and asks his best friend Edwin to keep an eye on Clarissa. There's a French diplomat that has been pursuing her and won't take no for an answer. Clarissa is extremely independent and is not happy with the idea of someone watching over her - especially Edwin.
Edwin and Clarissa have known each other for a long time. Their families' estates are next door to each other, and Clarissa has been best friends with Edwin's sister Yvette for years. Whenever they come in contact sparks fly. Edwin is a bit on the serious and stuffy side and tends to look askance at some of Clarissa's antics, while Clarissa, who is more lighthearted and enjoys having fun, seems to enjoy poking at Edwin's stuffiness. It really ratchets up a notch when it becomes necessary for her to accept his presence as protection. The scene that sets this up was fun to read as Clarissa's objections get shot down every time.
I really liked Edwin. He's been there in other books, usually in the background. He's a bit stiff and stuffy, but he's steady and reliable and there when his friends need him. He's very protective of those he cares for, such as his sister and his friends. He is haunted by something that happened when he was a child, something that has caused him to keep his emotions tightly controlled. He also doesn't like to ask for help from anyone, a quirk that creates some difficulty for him later on. He knows it's time for him to look for a wife, so he'll watch over Clarissa while he does his searching. He knows that he wants a quiet, sensible woman who will give him a peaceful home life. He tells himself he doesn't want someone as lively and flighty and irritating as Clarissa.
I also liked Clarissa. She's enthusiastic, loves dancing and opera and parties. She's a bit of a flirt, enjoying the attentions of men, but never letting them get too close. She has made no secret of the fact that she doesn't want to marry, but doesn't say why. She too is protective of those she loves, such as her mother and brother and her friends. She gets a great deal of enjoyment out of teasing Edwin and shaking up what she sees as his boring life.
As Edwin takes on the challenge of protecting Clarissa, he quickly realizes that he's in far more trouble than he expected. He finally has to admit to himself that he's attracted to her, even though he feels that they are all wrong for each other. I loved seeing the development of their relationship, as two people who believe that they already know each other very well discover that there are still some surprises to be had. I loved seeing Edwin begin to enjoy some of Clarissa's antics, finding that they brightened up his life. I also loved how Clarissa came to appreciate Edwin's sometimes blunt straightforward comments, as they were honest. The attraction between them continues to grow stronger, but there is frustration also, because Clarissa seems to blow hot and cold over his advances.
When the only way to ensure Clarissa's safety is for them to marry, Edwin makes his case with his typical pragmatic logic. Clarissa accepts the necessity, but has conditions of her own, ones that only add to Edwin's frustration. I ached for him because he was certain that there was something about him that made it impossible for her to handle his touch. It isn't until that frustration comes to a head, and he tells her about the traumatic event of his childhood that Clarissa is finally able to open up about the reasons for her own actions. Edwin finished winning my heart at this point because of his reaction. I loved his sensitivity and patience as they worked together to overcome her fears. These were truly some amazingly sweet and sexy scenes.
The problem of Clarissa's stalker ran throughout the book. The more I saw of him, the creepier he was, and I completely understood Clarissa's fear of him. It didn't take long for Edwin to understand just how dangerous he was too. There were some of his actions that made no sense to Edwin and Clarissa, especially once they were married. He should have given up by then, but seemed more determined than ever. An attack on Clarissa had Edwin challenging him to a duel, which terrified Clarissa. News brought back to England by Clarissa's cousin shed light on Durand's reasons, but still left Edwin determined to stay the course. I loved seeing Warren practically force Edwin to ask for help from his friends, which ended up being a very good thing. I was not at all surprised by the results of that help nor by the final confrontation. It also made Clarissa and Edwin realize the full truth of their feelings for each other. The epilogue was an excellent finish to the story, with a surprise arrival and a hint of things yet to come.