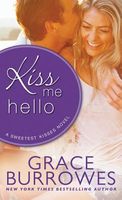 Series:
Sweetest Kisses
(Book 3)
He loves her, she loves him not...?
In the third novel of The Sweetest Kisses series, single mom Sidonie Lindstrom has her hands full with a troubled foster son, an abrupt adjustment to country living, and an unforeseen lack of funds. When her taciturn neighbor, MacKenzie Knightley, repeatedly offers practical help, Sid reminds herself she's not interested in the neighbor-despite his kindness, pragmatism and quiet charm. MacKenzie sees the vulnerability beneath her pride, and he's determined to change her mind...
Fantastic book, with wonderful characters, intense emotions, and unexpected romance. There were places that made me laugh out loud, and others that brought me to tears. Sidonie is a single woman who is also a foster mother. She has moved herself and Luis out of Baltimore into the countryside of western Maryland, to get him away from some bad influences. The property is a farm, recently inherited from her brother. Sid is not a country person and only intends to stay on the property for a short time. A week or so after moving in, she discovers two huge horses on her property. Mac is the person who comes to help her out with her problem. Their first encounter is pretty funny, with Sid terrified of the two huge animals and determined to get them off her property. Mac is calm, steady and practical, and successfully talks Sid off the ledge. He also gets Luis involved, and takes them to dinner, where Sid manages to throw his well-ordered life into turmoil.
I loved Mac. As the oldest, he runs their law firm and the family with a steady hand. He's been there for his brothers, supporting them when they need it, and prodding them when they need that too. He's very quiet, and something of a loner. He hasn't even dated in ten years, and even his brothers don't know why. He's a bit lonely, but contents himself with his nieces and his brothers. Then he meets Sid, to whom he is instantly and intensely attracted. He also likes her, with her humor and her devotion to her foster son.
Sid is also great. She has been a foster mother for several years, Luis being her latest and favorite. She would love to adopt him, but he's resisting that. She is still grieving from the loss of her brother, and trying to deal with his estate. Moving to the farm gives her and Luis a better place to live, but she's feeling rather out of her depth. She's worn out from trying to cope with everything, plus she worries about how well Luis is really fitting in. Between taking care of her brother before his death, and her foster parent duties, she too has not had a relationship in a long time. There's something else that holds her back too, something she tries not to think about. She too, is instantly attracted to Mac, and once past the initial meeting, finds that she really likes him.
I loved the development of their relationship. It begins as friendship, with Mac driven to help them settle in. I loved seeing his knack for showing up just when he's needed. He's there when an unpleasant social worker shows up, and marshals the troops to come to the rescue, when she makes threats about Sid's ability to keep Luis. Sid and Mac continue to grow closer, sharing confidences and kisses, as the friendship heats up to being more. But there's trouble coming because Mac hasn't been completely open with her. She believes that he's a full-time farrier, when that's just a sideline for him. In real life, he's a criminal defense lawyer with the family firm. Problem is, Sid hates lawyers. She's had too many bad experiences with them, from the ones that tried to put her in foster care when her parents died to the ones that are currently dealing with her brother's estate. It isn't a happy time when that comes out, especially with the way it came out. Mac knows he's screwed up, but getting Sid to listen to him is going to be a challenge. Their hands are forced, however, when the expected threat to Sid and Luis's situation arrives. Once again it is the Knightleys to the rescue. The courtroom scene is emotional, sometimes amusing, and deeply satisfying. It is capped in a most unexpected way by Mac. There was another twist at the end that I hadn't seen coming, but brought the book to a fantastic close.

I also loved the secondary characters. Luis was the most important of those, as Sid's foster son. The love between them was obvious. I also liked the way that they looked out for each other. He is amazingly sensitive for a fifteen year old boy. He also tries very hard to hide his vulnerability under a tough façade. I loved how he and Mac connected first over the horses and then through their love for Sid. Not to say that he was perfect. He still made some typically teenage mistakes, such as getting drunk during the work party. I loved that scene, as all three Knightley brothers took care of him. I ached for Luis and everything he'd been through with the foster system. I could see his fear leading up to his court date, and held my breath that the guys would be able to help him. I also hurt for him and the secret that was keeping him from letting Sid adopt him. It was awesome to see how everything turned out. I would love to eventually see him have a story of his own.