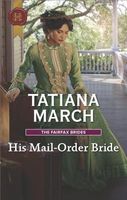 Series:
Fairfax Brides
(Book 1)
A Wild West wedding!
Thomas Greenwood expected his mail-order bride to be plain and pregnant -- not a willow-slim beauty! She's clearly no practical farmer's wife, but she's his chance finally to have a loving family…
Runaway heiress Charlotte Fairfax fled the possibility of a forced marriage, yet now, assuming a stolen identity, she's wed to a stranger the moment she steps off the train! She plans to stay only until it's safe to leave. Except marriage to kindhearted Thomas is far more complicated -- and pleasurable -- than she ever imagined!
Good book. It opens with Charlotte and her sisters in Boston, realizing that Charlotte is in danger. Their unscrupulous cousin is determined to gain control of Charlotte's inheritance and is planning to force her to marry him. With her sisters' help, Charlotte escapes, but with little money and no idea how she'll survive until she's able to gain control herself. After a fright in New York City, she ends up on a westbound train, with no ticket, trying to dodge the conductor. When she finds the body of a young woman in the train's restroom, she takes her ticket and her identity, ending up in Gold Crossing, Arizona. There she is stunned to discover that she is supposed to be a pregnant mail-order bride for a local farmer. Thomas is expecting a plain, sturdy and pregnant woman, not the tiny beauty who gets off the train. She doesn't look anything like the photograph he was sent, but a wife he paid for and a wife he will have.
I enjoyed the development of their relationship. Though Charlotte plans to leave when the danger has passed, she is determined to be the best farm wife that she can. I loved seeing her enthusiasm and resolve. Though Thomas suspects she is hiding secrets of some kind, he is entranced by her beauty and her willingness to be part of his life. He is falling fast and hard for her, when the truth comes out. Hurt and angry at her deception, the marriage is annulled. Charlotte feels incredibly guilty and wants to find a way to make it right. I ached for her as every attempt she made was turned back. But as hurt as he is, Thomas is still protective of her, and can't stay away. There's a confrontation with a deranged miner, where he is injured helping her. More consequences of her deception land her in trouble with the townspeople, she discovers Thomas is in trouble, and she has decisions to make.
I liked both Charlotte and Thomas. Charlotte is smart, though perhaps a bit naïve in her belief that she can carry off her deception. I liked the way that she wanted to make things as easy as possible for Thomas. She had a great sense of humor and was able to laugh at herself and her mishaps. I really liked how she instinctively trusted him. It was sweet to see how she tried so hard to make up for her mistakes. Thomas was a sweetheart. He's a large man who suffered a miserable childhood, feeling unloved even by his mother. He was happy to accept a pregnant woman as a bride, looking forward to forming the kind of family he wanted and never had. I completely understood his hurt and anger at Charlotte's deception. As much as he claimed to want no part of her after the breakup, what he did for her sister showed that he still cared deeply. There were a few times I wanted to shake him for letting his pride hold him back. His big moment at the end was fantastic.
I'm looking forward to reading the sisters' stories.