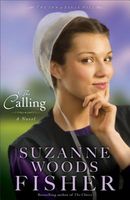 Series:
Inn at Eagle Hill
(Book 2)
Twenty-year-old Bethany Schrock is restless. Her love life has derailed, her faith hangs by a thread, and she is spending the incredibly hot summer days wading through a lifetime's accumulation of junk at the home of five ancient Amish sisters. About the only thing that holds her interest is the spirited and dangerously handsome Jimmy Fisher--and he seems bent on irritating her to no end.
When the sly old sisters and a guest at the Inn get Bethany involved in running the local soup kitchen and starting a community garden, she suddenly finds herself wondering, Shootfire! How did that happen? Despite her newfound purposefulness, a gnawing emptiness about a childhood mystery continues to plague her. Encouraged by Jimmy Fisher, she will seek out the answers she craves--and uncover a shocking secret that will break her heart, heal it, and point her to love.
Good book. This is the continuing story of the inhabitants of the Inn at Eagle Hill and the town of Stoney Ridge. This story is mainly about Bethany and her efforts to get her life back on track. She's recovering from the discovery that the man she thought she loved was a con man, responsible for the destruction of her father's business. Her brother Tobe, who was also involved in the business is missing, and her father is dead. While waiting, not too patiently, for some idea of what her future holds, she is assisting five old ladies in cleaning out decades of accumulated stuff at their house, a truly daunting task. She's also dealing in an unexpected interest in Jimmy Fisher, local ladies' man and something of a rascal.
Jimmy, who made his own impressions in the
Stoney Ridge Seasons
series, was known for his ability to get into trouble. He's made some mistakes, but is working to get past them. He still has a bit of the devil in him and seems to delight in teasing Bethany. He is also very protective of her.
I enjoyed seeing their romance grow from their friendship. Bethany is wary. His reputation with the girls is of the love 'em and leave 'em variety, and she's not so sure he's serious about her. She is also reluctant to trust her own judgment, after what happened with Jake. Jimmy is amazingly patient with Bethany's roller coaster treatment of him. I loved how he was there when she needed him, even before she knew she did. It was really sweet to see the way he got involved with the community garden just because of her. When Bethany learns some disturbing news from her past, she pushes him away, trying to protect him. I ached for his hurt, and loved that he refused to be pushed too far away. I loved seeing Bethany finally see that he was the one for her.
There were many other characters that wove their way through the story, each having their own problems. One of the most interesting was Geena, a young woman who was a youth pastor at a big church. She lost her job there because she didn't fit in with their vision of where they wanted to go, leaving her floundering for her own purpose in life. She comes to the Inn to get away and think about her future, and finds an unexpected peace and purpose. I loved the way that she and Bethany connected, with each of them finding someone they can confide in. I loved Geena's way of being able to listen and open people's eyes and hearts without being judgmental. I really enjoyed how she got involved with the soup kitchen and the group home, and the effect that both had on her. I loved her ending, which was a surprise to her.
Bethany's sister Mim is amazingly level headed and empathetic for a fourteen year old. She has secretly taken on the job of an advice columnist, unknown to her mother. While she makes a few missteps, just paying attention to the people around her often gives her the insight to answer others' problems. She has some romantic troubles of her own, as she is crushing on a boy two years older. They are friends, but that friendship hits a snag at the end of the book.

There is some suspense, dealing with the fallout of the failure of the father's business. Bethany's missing brother has returned and now must face the consequences of his actions. There's some definite maturing as he realizes what he has to do. The ex-boyfriend and conman Jake also makes some appearances, showing his true colors in threats and attacks. There's one really scary scene with him, with an unexpected hero stepping in to save the day. His part isn't quite resolved, so I look forward to reading the next book.