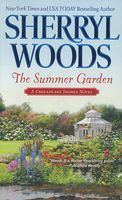 Series:
Chesapeake Shores
(Book 9)
Falling for "Maddening Moira" O'Malley was the unexpected highlight of Luke O'Brien's Dublin holiday. So when she pays a surprise visit to Chesapeake Shores, Luke is thrilled...at first. A fling with this wild Irish rose is one thing, but forever? Maybe someday, but not when he's totally focused on establishing a business that will prove his mettle to his overachieving family.
Given Luke's reaction, Moira has some soul-searching of her own to do. Scarred by her father's abandonment, she wonders if Luke, with his playboy past, is truly the family man she longs for. Adding to her dilemma, she's offered an amazing chance at a dream career of her own.
Deep down, though, Moira knows home is the real prize, and that love can be every bit as enchanted as a summer garden.
Very good book. This book picks up where the previous book,
An O'Brien Family Christmas
, left off. In that book, the entire family had gone on a visit to Ireland, to see where grandmother Nell had grown up. While there, she reconnected with Dillon, her first love. Luke, the youngest of the adult grandchildren, had also gotten quite close to Dillon's granddaughter Moira. When this book opens, Moira and Dillon are in Ireland, remembering their visitors and planning a trip to America. Dillon wants to see Nell again, and Moira wants to know if there's a future for her and Luke. Back in America, Nell is missing Dillon, and wants him to come visit. She's feeling her age and is considering asking him to stay in America. Luke finds Moira invading his thoughts quite frequently, creating quite a distraction from his goals.
Luke had been at loose ends since graduating from college, unsure of where he wants to take his life. He also feels that he has to live up to his over-achieving family, which adds another layer of stress. While in Ireland, he realized that creating his own Irish pub in Chesapeake Shores was a career that he could be passionate about. With Moira's help he did the research and made his plans. He's ready to put his plans into motion, though he's somewhat nervous about his family's reactions. I loved seeing his enthusiasm as he revealed his plans and got their support. His feelings for Moira are there, and he knows what he wants in the long run, but he is determined to get his pub up and running and successful before he will allow himself to think of a relationship.
Moira is pretty sure of her feelings for Luke, but is frustrated by the physical and emotional distance between them. She also has felt the weight of family disapproval as she hasn't settled on any kind of career. While working at the local pub, her boss encourages her to pursue her talents in photography, something she had never considered. Just as it looks like that may take off as a career, she is invited to accompany her grandfather to America. She looks at it as an opportunity to see if there is any future in her feelings for Luke.
I loved their first meeting in America. Luke had been kept in the dark about Moira's visit, and his surprise and pleasure was obvious. He's also quite honest with her, that all his time and energy is going into getting his pub ready to open, and that any thoughts of a serious relationship are on the back burner. Moira appears to be on board with this, and offers to help him as much as she can. I loved their teamwork as they brought all the pieces together. Their chemistry is still strong, and they spend as much time "together" as they can. At the same time, Moira's photographic talents draw the attention of Megan O'Brien, who encourages Moira to consider putting together a showing of her photographs.
Moira realizes that she enjoys her photography and that it is satisfying, but her real dream is to be a wife and mother. Luke is the man that her heart has settled on, but his reluctance to even consider making a commitment has her questioning the depth of his feelings for her. I got a bit frustrated with her, as she kept pushing even though he had made it plenty clear that he wasn't ready to commit to anything other than his pub. She's also torn between her desire to be a wife and mother and the pressure that she feels to make something of her photography. I loved her conversations with some of the other O'Brien women, as they help her see the possibilities, and also that being true to herself is the most important.
I loved Luke and his happiness at having finally found his place in the family. He has normal doubts and fears about the big step that he is taking, but doesn't let them stop him. I loved his happiness at having Moira there. I was somewhat frustrated by his belief that he can't have a relationship with Moira at the same time he's working on the pub.
I enjoyed the progress of their relationship, roller coaster that it was. Together, they were fantastic. Moira was fully invested in his dream, and happy to help it come true. I loved her enjoyment at working with him, and how she helped bring a bit of balance to his days. She was good at diffusing some of his crisis moments and bringing him back to an even keel. I also loved Luke's support of her photography and how he wanted what was best for her. But both had a bit of tunnel vision where their relationship was concerned. Luke refused to even think about anything more serious until he had checked all his boxes, which made Moira feel like she was second place in his life. At the same time, Moira was quite sure that Luke loves her, but she can't let go of the idea that he needs to put his money where his mouth is and commit. Sometimes she would back off her demands, but at other times it would cause her to question if they had any future at all. Some added stress was caused by an old girlfriend who doesn't want to let go. There are a couple of good scenes that show Moira standing up for what she considers hers, though Luke doesn't always come out looking very good. It takes a health crisis for Nell and a heartfelt lecture from her, for both of them to see their way to the future.
I also loved the secondary romance between Nell and Dillon. It was sweet to see them come back together after all those years. Nell's love for her family is a big part of who she is, and I loved how Dillon saw it and appreciated it. It was fun to see the reactions of various members of the family, especially Mick. The conversation between Dillon and Mick, when Dillon made his intentions known, was awesome.

I loved seeing the various members of the O'Brien family again, and how things are progressing with their lives. As always, there isn't much that stops them from stating their opinions on anything and everything that is happening in each other's lives. There were some great conversations that Moira had with various women, all of whom made her feel welcome, and gave her good advice on dealing with O'Brien men.