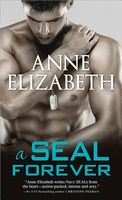 Series:
West Coast Navy SEALs
(Book 3)
Even a hero needs someone to believe in him...
Parkour instructor Maura Maxwell has always denied her attraction for her bachelor neighbor because she's seen his revolving door of women and doesn't want to become another notch on his belt. But the man who rescues her from a sudden storm isn't the one she thinks she knows-he's Master Chief Declan Swifton of SEAL Team Five, and he literally sweeps Maura off her feet.
Just as his teasing and tenderness start to work their way into Maura's heart, Declan and his team are called in for a dangerous op in the Middle East. The man who returns is facing the toughest fight of his life, and he needs Maura by his side more than ever...
Very good book. Maura and Declan are neighbors who share a balcony in their apartment building. Maura is attracted to Declan, but too shy to do anything about it, especially seeing the variety of beautiful women who pass through his apartment. Declan is a Navy SEAL who makes no secret of his avoidance of committing to any one woman. His job makes relationships difficult, and a SEAL is all he's ever wanted to be. When Declan rescues her from a stormy dip in the ocean, it's the impetus she needs to go after what she wants.
I really liked Maura. She may be shy around Declan, but when it comes to the rest of her life, she's a hard charger. As a gymnast, she lost her Olympic dream when she was involved in a car accident. Now she teaches parkour and gymnastics and dreams of owning her own gym - a dream that is about to come true. She's also a woman with a big heart, which shows in the way she cares for the kids and families who use her gym. I loved how her brush with death motivated her to overcome her shyness with Declan. She is also a woman with incredible inner strength. She used that strength to beat her injuries, and she used it again to help Declan.
Declan was great. He is a SEAL with a lot of years in the teams. What he does is a huge part of who he is. He has a great relationship with his Team brothers, and I loved the scenes of them together. Though I was a bit mad at Declan that first night after he rescued Maura, when he followed through on his plans with another woman, that didn't last long. Once he really got to know Maura, that was it for him. Declan is a big, strong guy of course, but is also pretty sensitive. He has good insights into what makes people tick and has a talent for bringing out the best in them.
I loved the development of their relationship. Their first date, where she asked him out to say thank you for saving her, was really unexpected. I loved how it turned out, and it was a good indicator of how their relationship would go. Over the course of several weeks, Declan realized that there was something different about the way he felt for Maura. Instead of being bored after a few dates, there was always something new to be learned about her, or to do with her. This had never happened to him before and had him believing that there might be a future for them together. Maura feels the same about him, but she has a few doubts. She worries that she isn't enough, and an encounter with an old girlfriend of his has her questioning their relationship. She pulls away, and by the time she sees the light, he's been called away on a mission.
The description of the mission and its aftermath are very well done. During the whole thing I felt as though I was there. Declan's injuries were life-threatening and I ached for him when he found out just how bad they were. His own inner strength and determination came out as he knew he had choices in how he dealt with them. I ached for his fear that he would lose his work with the SEALs because of them. I was also a bit mad that he never contacted Maura the whole time he was in the hospital, though I sort of understood his reasoning. I loved how the closeness of the SEAL family was shown in the support that he got while in the hospital.
Declan was worried about how Maura would react when she saw him. I was a little surprised at how smoothly that went as I would have expected at least some anger over the long silence. Most likely because of her own injuries, Maura is very accepting of his. But she's also no pushover, and doesn't let him wallow in his fears for long. I loved her gentle butt-kicking, and the effect it had on him. Their progress together, as Declan learns to cope with his new reality, strengthened their relationship. I also loved how her push also got him looking at a new direction in his life with the SEALs. I loved Declan's big moment at the end, and the epilogue was a nice addition.
I loved all the interactions with Declan's Teammates, both his and Maura's. The closeness of the brotherhood really came out in the post-injury support. I loved that there was no pity, only the effort to make things as normal as possible. From adapting his motorcycle to being his support team for the triathlon, they were there for him. I also loved their acceptance of Maura, especially during his emergency surgery. I would love to see Leaper get his own story.