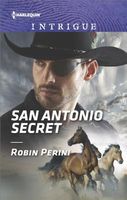 Series:
Carder Texas Connections
(Book 8)
A San Antonio rodeo may hold the key to finding the truth behind two missing people
When Sierra Bradford's best friend and goddaughter are abducted, she vows to find them at any cost. Sierra -- shot at the scene of their kidnapping -- checks in to a motel to treat her wounds. It's there that she encounters former Green Beret Rafe Vargas, who's come to her aid…and not for the first time. As his best friend's sister, Sierra is off-limits. But that hardly stops a powerful attraction from growing as they work together on an undercover sting operation to find her friend's adbuctors. Under the guise of a rodeo cowboy and his pregnant wife, Rafe and Sierra come to find out that the rodeo may be the key to their investigation -- and their possible future.
Exciting book. It opens with Rafe as part of a rescue mission that saves Sierra from a kidnapping and explosion. We immediately see that there is chemistry between the two. Rafe desperately tries to resist, but ends up giving in a spending a hot night with her, before his guilty feelings send him running.
Two months later, Sierra is missing again. Rafe gets a panicked call from his best friend, Noah, who is also Sierra's brother. Noah asks Rafe to find her, which he does pretty quickly, only to discover that she's been injured. She and her best friend and her friend's daughter had been kidnapped, and though Sierra escaped, her friend did not. Sierra is determined to find and save her friend. She's not too happy to see him, especially after his disappearing act, but realizes that she can use his help.
I liked Sierra. She is a smart, determined and capable of much more than some others believe. She had been working as a computer specialist for the same covert group that her brother and Rafe work for, until she was suspended after her last kidnapping. Though she's always been behind the scenes in previous investigations, she refuses to step back from this one. I loved her insistence on being involved. I also liked her belief in her friend's innocence, even in the face of evidence to the contrary.
I also liked Rafe. He is strong and protective. He has been attracted to Sierra for a long time, but there's the old "bro code" obstacle of not getting involved with your best friend's sister. He gave in to her advances two months ago, but has avoided her ever since. He also feels that he is not good enough for her. He lost someone close to him and blames himself. He wants to keep her safe, but also has to admit that he can't find her friend without her.
I enjoyed seeing their relationship grow as they worked together. Sierra knows how she feels, and though cautious about risking her heart again, she wants the chance. The scenes at the rodeo were great, especially her reaction to his first ride. I loved seeing her help Rafe realize that he wants a home and family of his own. The ending was fantastic, with a bit of a twist to the big moment.
The suspense of the story was really good. With Sierra's escape from the kidnapper, it freed her to find out why they had been taken and who was behind it. Though she isn't usually a field operative, I loved seeing her make the most of the opportunities they were given. There were some very scary attempts on their lives, each one getting more intense. The closer they got to the end, the more convoluted the problem seemed. The final confrontation was really intense, with an unexpected twist to it. The secret wasn't anything like what I expected either.