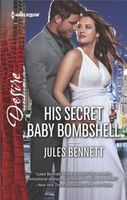 Series:
Dynasties: The Newports
(Book 4)
Expecting her rival's baby!
Driven businesswoman Eve Winchester has big plans to take her father's Chicago real estate empire global. But when she ends up pregnant by her family's personal and professional nemesis, she's thrown into the shark tank of corporate intrigue. Now she's doing damage control as she falls even deeper for Graham Newport.
Graham has never had such a heated, secret fling. But suddenly Eve is pregnant, and no strings attached turns into the ties that bind. Graham won't turn his back on what's his, but will family friction tear apart their fledgling affair?
Good book. From the first book in the series to this one, the attraction between Eve and Graham has been obvious. The problem is that their two families have been enemies for years, making a relationship between them difficult. Graham is a lawyer who is excellent at what he does. He also has no desire for any kind of permanent relationships in his life, though mutually satisfying affairs are just fine with him. Eve is a driven businesswoman who has taken over her dying father's real estate empire. She is smart, beautiful and focused on her career. A relationship with Graham is not a smart thing on her part.
Whatever it is that is burning between them can't be denied, and they give in to the heat. Because of their families' enmity, both have been warned to stay away from each other, but they can't do it. The moments they steal together are hot, passionate, and never enough. Keeping their secret is vital, but fate has other plans. Eve ends up pregnant and they have to make some decisions.
I loved the progress of their relationship. Though Graham is shocked at her news, he knows that he wants to be an involved father. I loved how protective he gets, and how his attitude changes from thinking of it as an affair. He finds himself thinking of something more, which freaks him out because he has never considered that with anyone else. He's still resisting the idea that he's in love with her, but knows he wants to marry her. He convinces himself that it is for the baby. Eve is quicker to realize her feelings, but the obstacles in their way seem insurmountable. She also has worries about the pregnancy itself. When they get a chance to go away together, it doesn't go quite as either had hoped. I ached for them both as they dealt with what happened. I loved Graham's big moment at the end, as he put everything on the line for her.
The family drama is still there, as Graham and Brooks try to find out the truth about their father. I liked the relationship between the two of them, as they support each other in the search. There's also tension as Graham's relationship with Eve becomes more obvious. I also liked the changes I'm seeing in Eve's father, as he appears to be making an effort to repair his relationship with his daughters. His reaction to Graham's appearance at the end was a surprise.