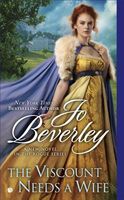 Series:
Company of Rogues
(Book 16)
Since being widowed two years ago, Kitty Cateril has been trapped in her late husband's home, where she is expected to mourn forever. Desperate to escape, Kitty will consider any option -- even a hasty marriage to a stranger with no intention of abandoning his bachelor ways.
London life suits Beau Braydon, especially his work keeping Britain safe. So when he inherits the title of Viscount Dauntry, he has no intention of resettling on a rural estate. He can't resist the opportunity to marry a sensible widow who can manage Beauchamp Abbey for him -- until he realizes Kitty is more than he bargained for...
Before Kitty and Dauntry can adjust to each other, a threat to the royal family takes them to London. Soon someone is determined to prevent Dauntry from exposing the villain, and secrets in Kitty's past threaten their growing love...
Good book. Kitty and Braydon are both trapped in lives they don't want. Kitty had been married to a wounded war hero who has since died. His mother has made grieving an art form and, with no place else to go, Kitty is stuck mourning a man long gone. She is desperate to find a way out, even if it means finding a position as a governess. Then a good friend tells her of a man who is in need of a wife to care for his home and family members.
Braydon never expected to inherit a title. He was quite happy with his bachelor life in London, with its parties, beautiful women, and his occasional work for the government. Inheriting the title also means inheriting the previous viscount's domineering mother and spoiled daughter. He has no interest in settling in the country, and asks for help finding a wife who will do it for him.
The initial meeting between Kitty and Braydon doesn't go well. She isn't anything like what he had pictured and he is certain that she would not be up to the challenges ahead. Kitty found him to be rather cold. But both are quite clever, and in their first official encounter have quite the battle of wits to get the other to withdraw from the arrangement. Instead, they discover a growing connection, one that surprises them both. Braydon begins by trying to avoid it, seeing a complication he doesn't want. Kitty is simply wary of risking her heart again.
In spite of their misgivings, they follow through on their plan. I loved seeing them get to know each other. Kitty is strong, independent and quite clever, with a tendency to speak/act on her instincts rather than thinking about them first. She is also vivacious and social, and in her previous marriage had a large group of friends, many of whom were her husband's soldier friends. Her friendships with these men puts a little bit of a strain on her marriage to Braydon, until he can deal with his unexpected jealousy. Braydon is also clever, aided by a nearly photographic memory. His work for the government is important to him, and he refuses to give it up just because his circumstances have changed. I liked his willingness to include Kitty in what was going on, as he discovered that she had a different perspective on events. I found his unwillingness to get involved in his estates a little disconcerting. As the days go on, their attraction and growing friendship begins deepen. Though neither had had any intention of letting their emotions get involved, there didn't seem to be any way to stop it. There was no great disaster or danger that exposed their feelings, just the growing realization that they wanted more.
There were a couple of mysteries running through the book. First was the attempted attack on three of the royal princes that brought Braydon back to London. His assignment is to find out who is behind it. His work on this shows some of the problems that plagued England at the time, such as a poor economy, what to do with returning soldiers, and the growing strife between the classes. What he discovered surprised him and threw a different light on the problem. Also going on was a look into a family secret. The previous viscount's wife had run off, but never been divorced. Kitty wants to know what happened to her. In their search for that information, something else is discovered that will have an unexpected effect on their future. I thoroughly enjoyed how that one worked out.

While there wasn't any real intensity to either mystery, unlike in some previous books in the series, it was still very well done and kept me hooked from first page to last.