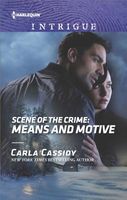 Series:
Scene of the Crime
(Book 13)
Gabriel Walters didn't need some know-it-all FBI agent charging in on his territory. But Jordon James wasn't about to let some local police chief derail her, not with three unsolved murders over at the Diamond Cove B and B. If she just immersed herself in the investigation, she could avoid the troubles she'd left back home…and run head-on into some new ones with Gabriel. He didn't want to discover a fourth victim, which, if the note slid under Jordon's bedroom door was to be believed, would be her. Now it will take their full cooperation to catch a killer -- before he strikes again.
Good book. There have been three murders at the Diamond Cove B&B and police chief Gabriel Walters is at a dead end in his investigation. Enter Jordon James, an FBI agent with an excellent track record. He isn't thrilled about have the Feds involved, but he wants the murderer caught. Jordon is used to getting attitude from local law enforcement, but she won't let it stop her from doing her job. Neither one expects the sparks that flare up between them.
I really liked both Gabriel and Jordon. She is a kick butt agent, very good at what she does. She also tends to be a loner, preferring to work by herself rather than with a partner. This got her into trouble a year earlier when she nearly became the next victim of a serial killer. She's sure that her boss has sent her on this job just because she'll have to work with the police chief. Her first impression of him is that he's intense and uptight, but also very sexy.
Gabriel had come to Branson from Chicago, looking for a job that wasn't quite so intense. He's frustrated by the lack of progress in this case. He'll do whatever necessary, even work with the FBI agent the mayor has foisted on him. He quickly notices her beauty and sexiness, but is determined to resist the unprofessional attraction.
I loved their first encounter. They reminded me a little of two dogs circling each other, trying to decide if they'll be friends or not. Both of them were guilty of a bit of prejudging, seeing what they expected to see. I loved seeing Jordon confront him right away about his attitude, and also that Gabriel admitted his fault right away. Air cleared, it made it much easier for them to move forward as a team. I also liked that Jordon was fully aware of her own faults. It was pretty sweet to see how protective Gabriel was of Jordon, even though he knew that she was a trained agent. His frustration at her insistence on staying at the B&B was obvious.
I enjoyed the development of their relationship. Constantly in each other's company, they quickly got to know each other. I loved seeing how tuned in to each other's feelings they were. It was especially obvious during their investigation of the house of mirrors, when Gabriel could sense Jordon's unease. I loved how he got her to tell him about what had happened to her. Their conversations were frequently filled with unexpected humor, as that was Jordon's way of dealing with the stress. It didn't take Gabriel long to realize that Jordon was exactly the kind of woman he had been looking for. She understands the life of a law enforcement officer, and he respects her abilities, too. But Jordon isn't so quick to reciprocate. She had been married before and her husband had done a number on her ability to believe that a man would ever love her. Added to the constant disapproval from her parents, she doesn't think that there is hope for a long term relationship, so she pushes him away. I ached for him as he laid his heart on the line for her and she was too afraid to accept it. I wasn't sure how long it would take her to realize the truth. The ending was great, and I loved the epilogue.
The suspense of the story was really good. The lack of clues was frustrating to both as they worked to develop a list of suspects. There were multiple possibilities and all of them seemed to have reasons to do it. There were several times I really wanted to smack Jordon for the things she did. She was way too determined to put herself in danger, and she took a lot of risky chances. Each time an attempt took place, I thought for sure they'd figure out who was responsible. When the final confrontation came, Jordon showed that she still hadn't learned her lesson. Back in the house of mirrors, with a killer whose identity I did not see coming, the encounter was scary and intense. Jordon was very lucky that Gabriel had discovered she was missing.