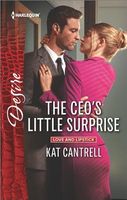 Series:
Love and Lipstick
(Book 1)
It's a corporate takedown in the boardroom and the bedroom -- until a little secret raises the stakes!
Cassandra Claremont's favorite position is CEO -- and she's sure as hell not stepping down for Gage Branson, the sexy playboy who once broke her heart. When inside intel threatens her company's success, he's her number one suspect. So why is she still entranced by his sexual spell?
Gage is determined to stoke the fire beneath Cass's icy exterior and clear his name. Fortunately, working after hours with the blonde beauty allows him to pursue both goals. But when secrets from Gage's past are exposed, will Cass lose her company, her heart or both?
Very good second chance story with some mystery added to the mix. I was already somewhat familiar with the mystery, as I have previously read the second book in the series
A Pregnancy Scandal
. I was very happy to read the first book and get some of the backstory I had missed.
Cass is the CEO of a cosmetics company that she founded and runs with three friends. They have recently discovered that information on their newest product has been leaked to the press, putting their company's success at risk. A short time later, a rival CEO arrives offering to buy the formula for that product. Cass isn't interested in selling, especially to Gage - the college love that broke her heart. Besides, she's not so sure he isn't the one behind the leak.
Gage has his own very successful line of skin care for men, but Cass's new product could put a serious dent in his business. He was her mentor in college, and plans to use that fact as leverage to get her to sell him the formula. He has fond memories of their time together, and hopes for some replays of those times. He doesn't expect the cold reaction he gets to his appearance.
I really wasn't too sure about these two at the beginning. There is no doubt that the sparks are still there, but both of them have been corporate big-wigs for a long time. Gage knows exactly what he wants, and he is willing to do anything to get it, even use seduction. He remembers Cass well from all those years ago and is intrigued by the changes he sees in her, but still looks at it as a challenge. I was a bit disturbed by his attempts to manipulate her. Cass remembers all too well her devastation at the end of their relationship. She took her pain and channeled it into her business plans. She also hasn't trusted a man since then. She is suspicious of the timing of his appearance and determined to do what it takes to find out if he's playing both sides. She, too, is willing to use whatever means she can to find the truth.
I began to enjoy the back-and-forth between them as each one tried to figure out what the other was thinking and planning. Gage tended to use charm and flirting to get under Cass's skin, while she tried to give the image of someone who was simply humoring him. Both of them were far more affected by the heat between them than either would admit. Cass decided that keeping Gage close was the best way to get the truth, and talked him into helping her find the leak. I was a bit disappointed in Gage when he kept putting off the promised help, until he realized just how important it was to her.
The passion between them wasn't diminishing at all, and Cass quickly realized that she was in serious danger of getting hurt again. She knew that Gage's attitude about commitment hadn't changed in the years apart, and believing in a future together wasn't going to happen. Then Gage is blindsided by a secret from his past, and Cass is the only one he can turn to for support. I loved seeing the huge changes that he experienced, and the effect those changes had on Cass. But trust is still a huge obstacle, and when Cass confronts Gage with some disturbing information he doesn't take it well. I loved seeing him have to take a hard look at his own actions and see that he was equally at blame. I loved his big moment at the end and the epilogue that leads into the next book.
At the heart of this book is the friendship among Cass, Trinity, Alex and Harper, and the business they built together. Each one has her own niche in the company. Unfortunately, the presence of a corporate spy has put a strain on the business and the friendships, as Cass feels the pressure of being unable to find out who it is. There are times when Cass feels very alone, but I wanted to shake her because she wasn't asking for help. Though one name has come up as suspect, there is no resolution at the end of this book. I expect that the truth won't be known until the end of the fourth one, but I can't wait for the journey.