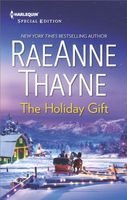 Series:
Cowboys of Cold Creek
(Book 15)
A COWBOY FOR CHRISTMAS
With two kids and an active life, widow Faith Dustin only wants peace and quiet for Christmas. But her snowy Pine Gulch ranch is nothing but chaotic. All that keeps Faith going is her helpful neighbor, cowboy Chase Brannon. He's always been "good ol' Chase," her faithful friend. Until he kisses her under the mistletoe…
Years ago Chase blew his chance with the woman he's loved since childhood. Now he's determined to step out of the friend zone…and into the role of husband. But the scared and stubborn Faith won't let herself fall. With Christmas just days away, Chase will need all the magic of the season -- and the help of her two matchmaking children -- to unwrap a second chance at love.
Fantastic friends to lovers story. Chase and Faith have been best friends since she was sixteen. He'd been in love with her even then, but was waiting for her to heal from the traumatic events that brought her and her sisters to live with their aunt and uncle in Pine Gulch. But before he could tell her of his feelings, she fell in love with and married their other friend Travis, and he had to stay in the friend zone. Two years earlier Travis had died and Chase was there to help her with whatever she needed. Now he's tired a just being a friend and wants more, but he doesn't know if she's ready. When a mutual friend sounds him out about dating Faith, Chase realizes he needs to make his move or risk losing her again. Faith has depended on Chase and his friendship for a long time. He's always been there for her. But suddenly there's tension between them and she doesn't know why - until he kisses her. He wants more than she's ready to give.
I loved the development of the actual romance. I thought Chase was an amazingly sensitive and patient man. He also was determined that he wasn't going to lose out again, and when he saw that someone else was looking to date her, he knew he had to act fast. Faith knew him well enough that she knew something was up on the trip back from the auction, but she had no clue what it was. Chase's insistence that the stockgrower's dance was an actual date, not just friends going together, totally freaked her out. She was afraid that if they changed their relationship and she lost him, she would be devastated. It was interesting to see how oblivious she had been to his feelings for her, until he kissed her. She was also clueless about her own feelings for him. I wanted to shake her when she tried setting him up with another woman even though he had made his interest in her very clear. It was fantastic to see how patient Chase was, but that he also refused to be pushed away. I ached for him when he finally declared himself and had to watch Faith continue to deny her feelings. I loved seeing her finally face her fears. The scene in the barn on Christmas Eve was fantastic. I also loved the epilogue and catching up with everyone a year later.

There is also a strong sense of family throughout the book. Faith and her sisters are very close and are there for each other. I loved their cooperation on running the Christmas Ranch, even though some of it can be reluctant. I especially loved the way that Hope and Celeste and Aunt Mary all were fully aware of Chase's feelings for Faith and completely bewildered by Faith's obliviousness. It was fun to watch them all try to get Faith to open her eyes. I also loved how Chase was such a fantastic father. I loved his relationship with Addie. He's also terrific with Faith's kids. I loved the way that he thought of her family as his, and they felt the same way about him.