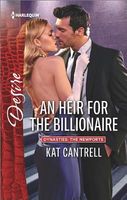 Series:
Dynasties: The Newports
(Book 2)
Will a single mom and her baby become an instant family for this all-business tycoon?
After learning her billionaire father is dying, Nora Winchester O'Malley rushes to his bedside in Chicago -- and right into an old friend's arms. Reid Chamberlain is there to comfort the young widowed mom when she needs it most. But what passes between them isn't mere compassion…it's sheer passion.
Reid has been all business for so long, shutting down his emotions as he built up his hotel empire. Now Nora and her adorable child have come along, stirring up demons he must face to have a shot at a future…
Good book. I haven't read the first in the series, but there was enough backstory that I didn't feel lost. This was a friends to lovers story, with some family drama thrown into the mix. Nora has returned to Chicago and the bedside of her estranged, dying father, hoping for some change in their relationship. While there she sees her old friend Reid Chamberlain, who has changed a lot from their high school days.
Reid has devoted himself to his business ever since a family tragedy, becoming something of a hermit. Hearing that his old friend Nora is back in town, he surprises her by sending food to the hospital for her and her family as they deal with her father's illness. Her appearance in his office to thank him brought back memories and made him want to know more.
I loved the development of their relationship. From the moment they met again there were incredible sparks flying. Reid has fond memories of their friendship and has nothing like it in his life now. He also can't deny the intense attraction he feels for her, and is torn about whether to pursue it. Their encounter in his office was fantastic, with both of them feeling the heat. An agreement to have dinner that night promised to be interesting indeed. And it was, until a phone call about her son brought everything to a screeching halt.
Reid freaked when he found out that Nora is a mother. Because of his own problems with his father and what his father did to the rest of the family, Reid is convinced that he is unable to be a father to anyone. Therefore he makes it a rule never to get involved with a woman who has a child. He said some really awful things as he basically kicked her out of his apartment. I loved seeing him suffer over the next couple days, as he dealt with the guilt of the things he said. I also laughed out loud at his assistant's comments and advice, followed by his brother's advice.
Nora has also been affected by her father's treatment of her. It has left her with an abundance of caution when it comes to men and their attitudes toward children. She would be more than happy to take advantage of the attraction between herself and Reid, but she isn't going to let herself fall for him.
From this point on, Reid and Nora spend as much time together as possible. In spite of claiming it is just an affair, it is obvious that there is more to it for Reid. I loved his protectiveness toward Nora and Declan, and how he goes out of his way to give her the support and comfort she needs. And even though he claims that he isn't cut out to be a father, his connection with Declan is really sweet. I especially loved that first encounter between them - Reid was all but terrified of the boy, but handled the situation beautifully. It was interesting to see Reid try to fight what was happening between him and Nora, thinking that he was protecting them. I loved the way that Nora saw beneath Reid's hard exterior to the vulnerable man underneath. As they all spent time together, she fell more and more under his spell, wishing for more but knowing it wasn't possible.
I loved how Reid became a different man when he was with Nora and Declan, and cried for him when something happened that brought back all his old fears. It was wonderful to see that Nora had enough confidence in her own feelings and belief in his, that she refused to put up with his running away. I loved seeing her go after what she wanted and Reid's reaction to it. The epilogue was terrific as we see a totally different Reid.
The family drama is interesting as the Winchester patriarch is dying after dropping a couple really big bombshells. It has created some serious conflict between his daughters and the Newport brothers. There is also the relationship he has, or doesn't have, with his daughters, who suffered from his neglect while growing up and his manipulations as they got older. I loved that the three girls were so close, giving each other the support that they needed. I also loved seeing how Nora had had the strength of will to walk away from it all and live her own life. I'm looking forward to reading Eve and Grace's stories.