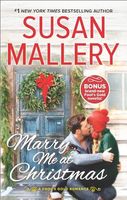 Series
Fool's Gold CA
(Book 19)
To bridal boutique owner Madeline Krug, organizing a Christmas wedding sounds like a joy - until she finds out she'll be working closely with the gorgeous brother of the bride, movie star Jonny Blaze. How will a small-town girl like her keep from falling for the world's sexiest guy? Especially with mistletoe lurking around every corner!
Jonny came to Fool's Gold looking for normal, not for love. Happily-ever-after only happens in the movies. Still, nothing about this quirky town is quite what he expected, and "ordinary" Madeline is the most extraordinary woman he's ever met. Refreshingly honest, disarmingly sweet. Achingly beautiful.
Planning the perfect wedding leads to candlelit dinners and strolls through snow-covered streets. And Madeline finds Jonny in real life even more captivating than her celebrity crush. But will the action star be brave enough to risk his heart and step into the role of a lifetime?
Mayor Marsha strikes again, bringing together two people who seem so different but are just right for each other. Madeline grew up in Fool's Gold and after several attempts, has finally found her niche. She is part owner of the local bridal shop, Paper Moon, and loves helping brides find the perfect dress. She hopes that someday she'll find that same happiness for herself. When Mayor Marsha comes to her and asks for help planning a wedding for the sister of a local resident, Madeline can't say no. But she panics a bit when she learns it's the sister of new resident and movie star Jonny Blaze - someone she's had a crush on for a while. She's not sure she can even breathe around him, much less plan a wedding.
Jonny moved to Fool's Gold to escape the craziness of Hollywood life. He just wants a chance to be the regular guy he was before his movie career. He finds it in Fool's Gold, where nobody makes a big fuss over him. He loves his sister, Ginger, and wants to give her the wedding of her dreams, so he gladly accepts Mayor Marsha's offer to find him help.
I loved seeing the relationship develop between them. It was fun to see Madeline start out with the somewhat starstruck feeling that she worked to hide, making sure she behaved professionally while inside she was having trouble believing it. She was a little surprised by the tingles she felt, making her think of her mom's stories of falling for her dad, but attributes them to star power. She's quite certain that someone like Jonny would never be interested in a small town girl anyway. As they worked together on Ginger's wedding, Madeline quickly got to know the man instead of the star. Jonny finds that Madeline is easy to talk to and easy to work with. She doesn't treat him any differently than anyone else, which makes it possible to relax in her company.
Over the weeks leading up to Ginger's wedding, they spend a lot of time together. A simmering attraction heats up, leaving both wondering where it's heading. Madeline doesn't believe that she's the type that would attract Jonny in any permanent way, and vows to just enjoy it while it lasts. Jonny has a couple issues holding him back. One is that nearly every time he has allowed himself to love, his mother, his father, a girl in high school, tragedy has struck. He holds himself back, even with his sister, because he is afraid of losing again. The other issue is his star status. He has seen what the limelight does to relationships and doesn't want to inflict that on Madeline. I loved seeing Jonny's protectiveness toward Madeline. His double date with her and her ex was beautiful, sweet and hilarious. I really liked how much they just enjoyed being together. I also loved those instances where Madeline had to rein in his tendency to go a little overboard, as they handled it with humor and maturity. Their reactions to their growing feelings for each other cause a few hiccups in their relationship, but actually talking things through makes a huge difference.
A huge part of their relationship is, of course, where it takes place. Jonny had come to Fool's Gold to get away from the Hollywood hype, but is sometimes surprised by just how normally he is treated. I loved the scene with his car, and the mayor and her request about the ballet narration. It was also great to see how the town has his back when it comes to protecting him from tourists. There's a terrific scene where Gladys rescues him from a woman who thinks she recognizes him. Of course, Gladys and Eddie have their own moments of hilarity, made even better by Jonny's willing participation. Madeline's family also plays a part in his assimilation into the community. Fool's Gold itself also has its effect on Jonny. He quickly feels a part of the community, which leads him into greater participation. I loved his participation in the toy drive and the story behind it. The most heartmelting part, though, was his help with the Pet Adoption event, and what resulted from it. Just that would have cemented him in my heart, as it does with Madeline. I loved catching up with other residents of the town, and enjoyed the surprises that were thrown into the mix.