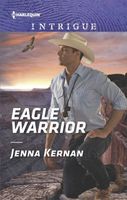 Series:
Apache Protectors: Tribal Thunder
(Book 2)
Could protecting her mean protecting the enemy?
As a former US Marine, Turquoise Guardian Ray Strong is no stranger to high-risk situations. But when he is assigned to protect Morgan Hooke -- a single mother and daughter to the Apache who killed a mass gunman -- Ray suspects there is more to his mission than meets the eye. Is Morgan an innocent bystander, or the keeper of her father's secrets and blood money? Despite his better instincts, Ray feels a powerful attraction to Morgan. Motivated by love and the loss of his own parents and best friend, Ray will do anything to keep her out of the hands of unseen enemies.
Good book, second in the series that began with Turquoise Guardian. In that book a gunman killed multiple people at a mining company, apparently as some kind of ecoterrorism. At the end of that book, Morgan's father had killed the shooter, been captured and jailed. Investigators believe that Morgan may have been aware of her father's plans, and knows what happened to the money he was paid. Others are not so sure, and the leader of the Turquoise Guardians sends Ray to watch over Morgan and her daughter. He is supposed to keep them safe, and also discover what she knows.
Morgan and Ray meet when he saves her and her daughter from an intruder who is looking for the money that her father supposedly received. She is not very happy about his presence, but she'll accept it to keep her daughter safe. She's also not happy about the sudden attraction she feels for him. She's been burned once, by her daughter's father, and she's not interested in repeating past mistakes. Ray also feels the attraction, and though he'd like to take advantage of it, he feels that it would be a bad idea. Whatever else he feels, he is determined to keep Morgan and Lisa safe.
I liked both Morgan and Ray. Morgan is strong, compassionate, loving and smart. Though unhappy at the necessity, she accepts Ray's help for the sake of her daughter. She tries hard to keep him at a distance, but as they work together to discover the truth, she finds herself drawn to him more and more. I loved her determination to find the money, and her insistence that it isn't hers. I also enjoyed seeing how she let down her walls as she got to know Ray, and was able to share her painful past with him. Ray is the bad boy of the group of Guardians. Thanks to the actions of his past, he feels that he is not good enough for any woman, let alone Morgan. I ached for him and his belief that he doesn't deserve to be loved. Part of his determination to protect comes from his guilty feelings over the death of his friend during the war. I loved his protectiveness and how it grew to be more, even though he tried to resist it. I liked that Morgan wasn't going to settle for less, and that she showed Ray that he was far better than he thought he was, and exactly what she wants in her and Lisa's lives.
The suspense of the story is very good. The main theme of this book is the search for the missing money. The action got progressively more intense as Ray and Morgan came closer to finding it. I loved seeing the clues they followed and how they figured out each one. The final confrontation was one that had me on the edge of my seat as I waited to see how it was going to turn out. I loved Morgan's ingenuity, and worried about how quickly Ray would find her.

Continuing from the first book, we discover a little more about what the eco-extremists have in mind, though details are still lacking. There are also more questions raised about just which side the leader of the Guardians is on. I'm really looking forward to the next two books and how it will all end. I have also enjoyed the tidbits of Apache tradition that have been included in the story.