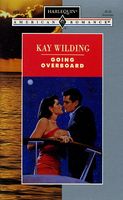 HE HAD A GLASS SLIPPER...
...but his Cinderella had vanished! The nearly naked stranger who'd fled from his stateroom bath -- leaving only her slipper behind -- now haunted his erotic dreams.
Aboard the luxury cruise ship American Dreamer, a regular bevy of beauties circled the powerful tycoon. Jackson "the Shark" Sherrod knew he was considered the finest catch in the sea. But after one glimpse of his elusive enchantress's enticing flesh, he knew just the woman he wanted.
Jackson wasn't called Sherrod the Shark for nothing. What he wanted, he usually got. Only this time, when it came to this woman, he had to find her first. And Sherrod the Shark was no Prince Charming.
Oldie (25 years!) but still good. Frances is a modern day Cinderella. She had spent the last thirteen years caring for her father, while her older brother and sister went on with their lives. When her father passed away, she got the shock of her life (and so did they), as she inherited almost a million dollars. With her siblings furious at being left out, Frances takes her sister-in-law's advice and goes on a month long cruise to get away. She ends up in the wrong cabin and is in the bath when the rightful occupant arrives. Horrified and embarrassed, she flees, hoping not to see him again.
Jack is a businessman in the midst of a takeover that has run into some problems. On the advice of his partner and best friend, he heads out on a cruise while waiting for developments. He's stunned by the beauty he found in his cabin, and determined to find her again.
I really enjoyed their first meeting. Frances is shocked and frightened by the appearance of a man in what she thinks is her room. Having been sheltered due to her past circumstances, she overreacts just a bit. Jack is suspicious of why she is there and not terribly inclined to believe her explanation. There are definitely sparks flying between them, and Jack wants to know more. But when he answers a phone call, she sneaks away. Frances goes to great lengths the next day to avoid discovery, especially when she finds out that he has been seated at the same table as she for the length of the cruise.
I liked Frances. She was a bit innocent and naïve, her only real exposure to the world coming from reading and watching television. But she was ready to embrace new experiences. It was fun to watch her reactions to Jack, especially at the beginning. She succeeded in hiding from him until a couple too many drinks brought out the gentleman in him and the exposure of her disguise. I liked seeing her relax in his company once they got past their initial meeting. She also has a pretty uncomplicated view of the world - what is right is right, and what isn't is wrong.
I liked Jack also. He's more cynical and world-weary. Having witnessed his father's company being taken over, and his father's reaction to it, Jack has been bent on revenge for the last ten years. He's almost there, and just waiting on some financing when problems arise. Hiding out on the cruise isn't his first choice, but he'll do it if he has to. He looks at finding his mysterious visitor as a welcome distraction, and doesn't expect to have his life changed by her.
I enjoyed the development of their relationship. It started out as friendship, when Jack realized just how innocent Frances was. He's attracted to her, but sees her as far too good for him. He's determined to keep it that way, but finds himself unable to keep from kissing her. Once Frances gets over her embarrassment, she enjoys Jack's company. They have fun with their sightseeing, and they share quite a few laughs. She is also blown away by his kisses, and wants to experience more. Convincing Jack of that seems to be an uphill battle.
I loved seeing Frances's confidence in herself grow thanks to Jack's attention. It was fun to see her plan to get her way with him. Though things didn't go quite as expected, they did end up moving their relationship forward. But as they grew closer, Jack began to feel guilty. He knows that he isn't planning anything permanent, having already made a hash of his personal life once because of his work. He's afraid that he's going to hurt Frances, and he hates that idea, but he also can't force himself to stay away from her. At the same time, Frances's feelings for Jack are growing. She knows that he's not interested in something permanent, but she can't help dreaming a little. A sweet offer from her has Jack taking another look at his own feelings. Then her confidence in her ability to be part of his world takes a hit, and nothing he says can convince her that she is what he needs.
I ached for them both as they parted ways. Both were miserable without each other. I loved seeing Frances's new persona standing up to her sister, but she was still hesitant about fitting in to Jack's life. It was fun to see her sister-in-law try to convince her to try again. I loved Jack's big moment, as he sees the changes he has to make if he is to get the future he wants. The epilogue is sweet, with Frances making some changes of her own.