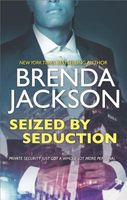 Series:
Protectors
(Book 2)
One glance is all it takes
From the moment his eyes meet hers across the crime-scene tape, ex-con turned bodyguard Quasar Patterson knows he has to see the mysterious Dr. Randi Fuller again. She's a renowned psychic investigator who can foresee danger for others, but not for herself. That makes Quasar doubly determined to watch over her -- the closer, the better -- as she's drawn into a dangerous gang rivalry.
Both her psychic gift and their blinding chemistry tell Randi that she and Quasar are fated to be entwined. Even as they surrender to the heat between them, there's no guarantee of a happily-ever-after now that an enemy has her in his sights. And claiming a future will take more than Quasar's strength and skill. If he can't risk the heart he's always held in check, they'll both lose for good…
Very good book with an excellent blend of romance and suspense. Quasar is one of the ex-con bodyguards introduced in the first book,
Forged in Desire
. Randi is a psychic investigator who also had a big part in the conclusion of that book. She and Quasar had seen each other during that part of the book, with a definite surge of attraction and connection bursting forth. That shared look consumed them both until they were finally able to meet a few months later. By this time, Randi's psychic gift has told her that Quasar is going to be someone very important to her life, but that they will both have to work at earning a future together. She also has to be patient and wait for him to make the first move. I loved the scene when he took that first step.
Both Quasar and Randi have events in their pasts that make them wary of relationships. Randi's difficulty is that her psychic abilities either freak out the men she dates, or they want something from her. This makes her cautious about trusting a man with her heart. Quasar was wounded deeply by the actions of the woman he loved. When he went to prison for something his brother did, his girl promised to wait for him, then turned around and married his brother. Quasar has sworn never to give his heart to another woman. Neither can deny the attraction that burns hot between them. Quasar is determined to get Randi into his bed, while she is looking further into the future.
Their relationship starts with that first day that they spend together, getting to know each other. One of the things that I liked best about Quasar is that he accepts and believes in Randi's abilities without question. This is a big step in her willingness to trust him. Just as they make plans to see each other again, she is called to Los Angeles to help in solving a case that threatens to start a gang war. Worried about her safety, Quasar follows Randi to LA, determined to watch out for her. His timing is perfect, as an attempt is made on her life that very first night. That scene is fantastic, as it turns out that Randi is even more capable that Quasar suspected. I loved seeing his protectiveness come out in full force. Though Randi is his main purpose for being in LA, Quasar has also decided that it is time for him to confront his past in the form of his father and brother. I ached for Quasar and the misery he endured with a father who blatantly favored his older brother, and said brother who was a bully of the worst sort. I loved the way that Randi wanted to help him and wanted to shake him for pushing her away. Quasar's confrontation with his father was painful, and the effects spilled over onto his growing relationship with Randi and sent him fleeing the feelings he didn't want to admit. Enlightenment came from an unexpected source, and just in the nick of time. I loved his big moment at the end as he was finally ready to open his heart completely.
The suspense of the story was great also. Randi's abilities are amazing, as is her determination to use them for good. The case in LA began with a phone call from the FBI office there, and what she "saw" just from that call was incredible. Her arrival in LA and initial meetings with law enforcement emphasized the attitudes she had to deal with. I loved how she countered the negative with calm and professional courtesy, yet giving as good as she gets. Her meeting with the first of the gang leaders was incredible, and I loved seeing her get to him. We also get a look at the man behind the trouble and see what drives him. The suspense intensifies with each attack on Randi and the feeling that time is running out. There is an additional player who comes in later in the book and brings increased danger to Randi. Though not identified until the end, I wasn't surprised at who it turned out to be. Karma strikes again, and I loved its widespread reach.
One of the other enjoyable things about the book was learning more about the relationships between Quasar, Striker, and Stonewall. There is more revealed about the effect that Shep Granger had on their lives and the difference it has made to the men they are now. I also enjoyed the teasing among the three, especially when it came to their romantic escapades. I am really looking forward to reading Stonewall's story.