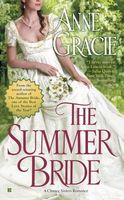 Series:
Chance Sisters
(Book 4)
Fiercely independent Daisy Chance has a dream -- and it doesn't involve marriage or babies (or being under any man's thumb). Raised in poverty, she has a passion -- and a talent -- for making beautiful clothes. Daisy aims to become the finest dressmaker in London.
Dashing Irishman Patrick Flynn is wealthy and ambitious, and has entered society to find an aristocratic bride. Instead, he finds himself growing increasingly attracted to the headstrong, clever and outspoken Daisy. She's wrong in every way -- except the way she sets his heart racing.
However, when Flynn proposes marriage, Daisy refuses. She won't give up her hard-won independence. Besides, she doesn't want to join the fine ladies of society -- she wants to dress them. She might, however, consider becoming Flynn's secret mistress. . .
But Flynn wants a wife, not a mistress, and when Flynn sets his heart on something, nothing can stand in his way...
A wonderful conclusion to the series. I think Daisy was my favorite of the four "sisters." She is the only one who wasn't born a lady and makes no secret of her background. Rather than dreaming of marriage as her sisters do, Daisy's ambition is to be dressmaker to the stars, or "toffs" as she calls the London elite. It was great fun to see Daisy do her best to resist Lady Bea's attempts to turn her into a lady. She is quite blunt in reminding everyone that she isn't a lady and no amount of polish will turn her into one. She is stubborn to a fault, determined that nothing will derail her plans, especially not one Patrick Flynn, charming Irishman and business partner to her brothers-in-law.
Flynn is a self-made man. Like Daisy, he isn't well-born but has made his fortune through hard work. Now that he has reached that point, he's ready to settle down and start a family. He plans to make an advantageous marriage, and he has settled on the pretty daughter of an impoverished earl. Unfortunately for him, he discovers that it isn't that easy. The lady in question isn't all that enthusiastic, but he's better than her alternative. Flynn is a good man at heart, and I loved how he handled the issue. I also loved how comfortable he is with himself. He doesn't really care what others think of him, and I love how his waistcoats show a bit of that independence.
From the very beginning of the series, Daisy and Flynn have been friends. Because their backgrounds are similar, they find it very easy to talk to each other. Flynn doesn't laugh at her speech or mannerisms or scoff at her dream to own her own dress shop. Daisy doesn't object to his plans for marriage, but she does point out some things he hadn't considered. I loved their banter and the honesty with which they treat each other. It's easy to see how perfect they are for each other, but each suffers from tunnel vision that blinds them to it until a dare causes Flynn to kiss Daisy. Each of them reacts as if hit by lightning but with different results. Flynn realizes that the perfect woman for him has been right under his nose all along. He just needs to convince Daisy of that fact. Unfortunately for him, Daisy sees her reaction to Flynn as the death-knell to her dreams if she were to give in to him.
The development of their relationship was great fun to watch. Flynn is determined, and nothing is going to stand in the way of getting the wife he wants. His attempts at courtship were sweet and romantic. I really loved the flowers that he sent to her. He is incredibly patient and endearingly confused by her adamant resistance to his advances. Thanks to her past, Daisy doesn't trust easily. To her, marriage means the loss of independence and her plans for her future. But Daisy is nothing if not practical, and giving up on marriage doesn't mean giving up on passion. She rather shocks Flynn with her proposition, but he is quick to see the advantages. I loved how he uses that as another method of courtship, continuing to chip away at her defenses. Daisy doesn't go down easily, fighting her feelings to the very end. An unexpected complication creates a dilemma for Daisy, and Flynn's response is romantic and perfect.
As always, Lady Bea is a force to be reckoned with. I loved the battles between her and Daisy over Daisy's resistance to "lady lessons." Sometimes Daisy wins, sometimes Lady Bea wins, but the love between them is never in question. I also liked how Lady Bea treats Flynn the same as the other men and doesn't look down on him. She also is very good at keeping him in line if she wants to. There is a very emotional scene with her, Daisy and Flynn at the end. We don't see a lot of the other sisters in this book, but their appearances always showcase the closeness they all share. I also loved seeing more of Featherby, the butler, and his protectiveness toward all the ladies.