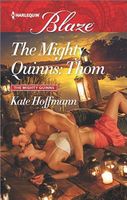 Series:
Mighty Quinns
(Book 33)
To tame the beast…or set him free?
Pro hockey player Thom "The Beast" Quinn is the team's bad boy -- the street kid who hit pay dirt when he learned to shoot a puck. But when his reputation gets a little too naughty for the team's liking, they give him a warning: shape up, or be benched. And the one calling the penalties is none other than sexy Malin Pederson, the boss's daughter.
In her head, Malin knows that if she can reform Thom Quinn, her future with the team will be set. But her body urges her to indulge in the kind of wicked pleasure that only the sexy athlete can provide. And in her heart, Malin realizes that this is a man she can't walk away from, even if it costs her everything…
Very good book. Thom is the bad boy of the hockey team. He's awesome and focused when he's on the ice, but off the ice, he's out of control. When some particularly bad photos surface, team management has had enough. They plan to trade him, and until they do, he'd better mend his ways. Otherwise, the trade won't be one he'll like. Boss's daughter and social media specialist, Malin, is put in charge of making it happen. Malin is determined to prove herself to her father and thinks that if she can reform Thom, she'll finally earn his respect. But she doesn't expect the intense attraction that has her interested in more than just his public reputation.
I loved the development of their relationship. It isn't smooth, and it isn't easy, but it feels real. Both Thom and Malin have some deep-seated issues that make the possibility of a real relationship hard for them to believe. Thom grew up in difficult circumstances, and hockey was his ticket out. His reputation as "The Beast" is how he sees himself, and if he doesn't have that, he isn't sure who he is. He understands Malin's plan for his makeover, but he's not so sure he wants it. Malin starts out seeing Thom as her ticket to her father's respect. She is certain that she can turn him into a man that is respected. But the more she gets to know him, the more she realizes that there is already a good man under that beastly exterior. The attraction between them is hot and strong, and they have to decide if giving into it would be worth the possible consequences.
It starts out a little rough when Malin isn't entirely honest with Thom about the team's plans for him. Between that and his insecurity over his belief of why she wants him to change, Thom feels hurt and angry. An open and honest discussion of means and motivation went a long way toward repairing their growing friendship. There were some terrific scenes of Malin's makeover attempts, from Thom's introduction to Twitter to a "spa day." Even better was the growing connection between them. I loved seeing Thom's transformation as his feelings for Malin made him want to be a better man. There are still obstacles to overcome, such as Thom's difficulty with sharing when it comes time to make an important decision. Malin also has to face her own insecurities when parts of Thom's past make her realize that she still has some trust issues. I loved the ending as a surprise twist made their patience well worth the effort.
I enjoyed the secondary characters also. Thom's brothers provide some insight into the far-reaching effects of their childhood, while their grandmother shows that they do have an ability to give love. There is a brief appearance by a little boy who showcases Thom's empathy for someone going through the same things he did as a kid. There's also a bit of foreshadowing of Thom's future. Malin's father rubbed me the wrong way for a good part of the book, both because of his hard attitude toward Thom and his apparent lack of respect for Malin and her work. He did redeem himself somewhat at the end. On the other hand, I loved Malin's mom, Lillian. She seemed to have a good handle on how to deal with her husband. I also loved her memories of the early days of her marriage and the effect they had on Malin's relationship with Thom. She also had a pretty sweet scene with Thom at the charity ball.