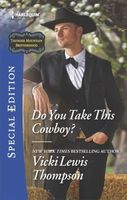 Series:
Thunder Mountain Brotherhood
(Book 11)
A Marriage-Minded Cowboy
Orphaned at a young age, Austin Teague found a loving foster home at Thunder Mountain Ranch. After four years away, he's back in Wyoming for a family wedding…with hopes to plan his own nuptials once he finds his ideal bride. Between their mutual off-the-charts attraction and easy camaraderie, it seems as if Austin and gorgeous videographer Drew Martinelli are made for each other.
Drew cherishes her independence -- in her job, and during this time-out from her boisterous Montana clan. But the sexy, straight-shooting brother of the groom wants to settle down -- now! -- and Drew isn't ready to say "I do." What if that means giving up the chance to have it all with the smoking-hot cowboy of her dreams?
Good book. Austin has come home for his foster brother's wedding. After years away, he's ready to start his new trail-riding business and settle down. All he has to do is find the right woman to do it with. He doesn't expect to find her almost as soon as he arrived. Drew is the videographer for his brother's wedding, and they hit it off right away. But as much as she likes him, Drew isn't quite on the same page. She has plans for her life, and marriage and babies aren't part of it.
Austin and Drew are both intense, focused people. Austin has been goal oriented ever since he was a kid, and nothing has changed. His brothers accuse him of being a "bullet train." Once he gets an idea in his head, it is full steam ahead. That focus tends to leave him blind to its effects on others. He is sweet and romantic and quite the cowboy gentleman. He also loves his family. Drew is the oldest in her family. She has two sisters, three brothers, and a whole mess of cousins. The family is loud, boisterous, loving, and seemingly always in each other's business. Drew felt smothered by the constant attention of feeling of expectations and moved a couple of hours away for some much-needed privacy. She loves her work, both with people and doing nature videos, and focuses on her plans to do more nature videos. She, too, tends to have a laser focus and ignores things that don't match her vision. She is also fun, feisty, and adventurous.
I enjoyed the development of their romance. From the moment Drew and Austin met, the attraction between them was undeniable. Austin sees it as the first step on his path to matrimony. He sets his sights on convincing her just as fast as he can. Drew sees her attraction to Austin as a chance to enjoy being with a good-looking guy and having some fun. Austin moves so fast that it is easy to see that he might be in for a rude awakening, but he sees their connection as the proof that they are meant to be. Drew really enjoys Austin's company, but his obvious intentions make her very nervous. I ached for her because I could see that her feelings for him were growing, but she was afraid of what it would mean to her plans and how she sees herself. One of the things I loved about this couple is that they talked to each other when problems came up. I ached for them both when Drew let her fears get the best of her. I loved her conversation with her sister, Elise, who gave Drew a point of view she hadn't considered before. It was an eye-opener for Drew and had quite an effect on her perception of her relationship with Austin. I loved seeing how communication made the difference.
I loved the relationships among the Thunder Mountain family. Rosie and Herb are the heart of it, and the example for all their boys. The love and respect throughout was heartwarming to see. I also loved the teasing that went on between the various brothers, and also how much they obviously cared. His brothers gave Austin a hard time about being a "bullet train, " but they were also there for support and advice. The setting of Cade and Lexie's wedding was great. The wedding itself was incredible.
I especially loved the camping trip that Austin and Drew went on, not just for the development of their relationship. The tracking of the wild horse herd and the things that they saw were so vividly portrayed that I felt like I was right there. I held my breath through the whole cougar episode waiting to see how it was going to turn out.
My only disappointment is that the reader's letter states that this is the last book in the series. Wait! What about Jonah? It looks promising with Drew's sister Elise, but don't leave me hanging!!!