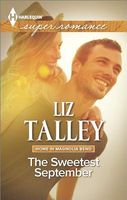 Series:
Home in Magnolia Bend
(Book 1)
A mistake that's meant to be…
All John Beauchamp wants is a simple life. He's happy running his Louisiana sugar cane plantation and doesn't want more than that. Then Shelby Mackey breezes in, announcing that she's pregnant. Their one crazy night of passion has changed everything.
Except Shelby insists John doesn't have to be involved -- she'll raise the baby herself. But John can't let her go that easily. Even without the baby, Shelby is a breath of fresh air. Her call-it-as-she-sees-it attitude intrigues and attracts him. So when Shelby agrees to stay temporarily, John's determined to make that stay permanent -- and as sweet as can be.
I first met Shelby in
The Road to Bayou Bridge
, as the girl that Darby almost married when he was still (unknowingly) married to someone else. This is Shelby's story, which picks up just after her breakup with Darby. Brokenhearted and mad at herself for yet another poor pick in the man department, she stops at a combination grocery/bait shop/bar and has a few drinks. There she encounters a man indulging in his own attempts at forgetting his pain. It is the first anniversary of the death of John's wife, and he's trying to drown his sorrow. In their inebriated state, they find themselves having a stand-up encounter in the bar restroom, and regretting it almost instantly. Two months later, Shelby has returned to Louisiana to tell John she's pregnant.
I liked that Shelby was determined to do the right thing and tell John about the baby, even though she planned to raise it by herself. She didn't expect John to want to be involved. When a possible crisis with the pregnancy threw her plans to leave right away into chaos, John invited her to stay for a week to rest and recover. He also looked at it as a chance to change her mind about leaving.
I liked Shelby a lot. She never acts like a victim but has a positive attitude about her plans for the future. She doesn't have a whole lot of self-esteem, thanks to her treatment by her ultra-successful parents and siblings, and what she sees as her poor judgment in men. She's determined not to be a burden on John, but she is ultimately willing to listen to what he wants. She is also down-to-earth and honest, and I really enjoyed her interactions with the people she met. Being from Seattle, rural Louisiana is a whole different world for her, but she fits in unexpectedly well.
I liked John, too, though there were certainly times I wanted to shake him - hard. I ached for his grief and guilt over Rebecca's death. His self-blame was a little overdone; I thought since it was in no way his fault. His grief was deep, and he had cut himself off from really living, spending most of his waking hours working. His encounter with Shelby was one more rock in the pack of guilt that he was lugging around. But when she told him about the baby, it lit a small spark of hope and light in him that he didn't want to lose.
I enjoyed the development of their relationship. Though still strongly attracted to each other, Shelby and John are determined to keep their hands to themselves. John because he still feels that it's betraying Rebecca, and Shelby, well, she's just tired of John apologizing every time he kisses her. I loved that John invited Shelby to stay with him so that they could get to know each other, even though he knew it would cause talk. They developed a pretty good friendship along the way. Shelby realizes fairly quickly that has fallen hard for John but doesn't know how he feels. John is confused by his feelings for Shelby. She is so different than Rebecca, and what he feels for Shelby isn't anything like what he felt for Rebecca. How can it be love? Unfortunately, Shelby overhears a discussion John has with his dad, and coming on top of a threat to John's livelihood, Shelby believes it is best for her to leave. An enlightening conversation with his sister and John realizes what he has to do. I loved his big moment at the end. It was sweet and romantic with a hint of vulnerability.
I loved the family dynamics of the book. First, I ached for Shelby and her feelings of never belonging or being wanted in her own family. I thought her sister was especially obnoxious. Shelby's mom seemed pretty oblivious, but she redeemed herself quite well in the end. I loved John's family. They were loud, fun, friendly and accepting, and Shelby felt at home with them immediately. His sister, Abigail was a tad overprotective and suspicious, but in the end, she was one of Shelby's biggest supporters. I loved his dad, a preacher who was the quiet, thoughtful kind rather than in your face hellfire and brimstone. The one family member who was completely unlikable was Rebecca's mother, Carla. I understood that she was grieving, but her whole attitude toward Shelby was awful. The things she said were uncalled for, and her threats to John were unforgivable. I loved Shelby's plan to deal with them. Though Carla redeemed herself a little at the end, I'm not sure I would have been as forgiving to her.
Though the depth of pain and loss was heartwrenching at times, there was also some fantastic humor to add some relief. Young Birdie and her "birdwatching" was hilarious. I also loved some of the turns-of-phrase that came out in some of the conversations. The small town attitudes and events added extra layers to the issues that Shelby and John had to deal with, but overall it was a wonderful setting.