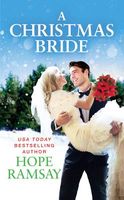 Series::
Chapel of Love
(Book 1)
A season of hope . . .
'Tis the season in Shenandoah Falls and the first time Willow Peterson has been home in years. But she's determined to fulfill the wishes of her recently deceased best friend and restore Eagle Hill Manor to its former glory-all in time to host the perfect holiday wedding. She just has to get the owner of the historic inn to hire her. Unfortunately, that means dealing with Scrooge himself...
After the death of his wife, David Lyndon has a bah-humbug approach to Christmas. But as December counts down and the wedding planning is in full swing, it's harder and harder to stay immune to the charms of Willow, especially when he sees how much joy she brings his eight-year-old daughter. After a simple kiss under the mistletoe turns into something more, David is hoping he can turn the magic of the holiday season into the love of a lifetime.
Very good small town romance, full of love, loss, family, and friends with a healthy helping of humor thrown in. When Willow was growing up, she couldn't wait to get out of Shenandoah Falls, away from her hippie, vegan, will-protest-anything mother. She succeeded and hasn't been home in years. But now she's back, trying to rebuild her life after a personal and professional betrayal. When she discovered that her company was defrauding the government, she blew the whistle. Unfortunately for her, her CEO boyfriend was also involved and has taken the lead in trashing her reputation. When she goes to visit her deceased best friend's mother, she is dismayed to discover that Shelly's dream of restoring the inn died with her. Her encounter with Shelly's husband David shows a man determined to sell the inn and move on.
David is still grieving the loss of his wife. The inn is a reminder of her and the way that she died. He plans to sell it and move on with his plans to run for Congress. But Willow's arrival throws his well-ordered life into chaos. She wants him to fix up the inn enough to host his cousin's wedding, something his family is strongly against. They want him to concentrate on his political future. Various townspeople also have no problem voicing their opinions also.
I liked Willow a lot. She may be down, but she hasn't given up. She isn't backing down from her stance on the fraud case. However, her self-confidence has taken a little bit of a hit over what she sees as her bad judgment in boyfriends. She also feels that people look down on her because of her mother. Underneath, she is a woman with a big heart and plenty of love to give. I loved her relationship with Shelly's mom, who had been like a second mother to her. And I loved her quick connection with little Natalie, who called her a "fairy godmother."
David took a little while to grow on me. He was so stiff and cold toward Willow at the beginning. I also disliked the way that he let his mother bully Natalie. I wanted to see him stand up to her. I softened a little bit when I saw how much he was still hurting over Shelly's death. He started to win me over when he stood up to Natalie's teacher over the spelling tests. The more I saw of him, the more I saw someone who buried his own needs and wants to live up to others' expectations.
I really enjoyed the development of their relationship. Willow, Shelly, and David had been friends for a long time. There had never been any hint of attraction between David and Willow until she came home, and both were surprised by it. David spends a fair amount of time feeling guilty about desiring someone other than Shelly. Willow doesn't want to feel anything for a man she thinks is too much like her ex. But she doesn't let any of that stop her from confronting him about the inn and telling him exactly what she thinks. Once David makes the decision to cooperate about the inn, he realizes that his attraction to Willow is a large part of why he did it. As he gets sucked into helping with the inn he also gets to spend more time with her. I loved seeing the effect that they had on each other. Willow is able to help David break out of the shell of grief he'd been in and start to live again. David helps Willow to see that she is much stronger than she thinks she is. The attraction between them continues to grow until it bursts into flame. I loved that scene and the morning after, as each of them begins to believe that they could have something special. But interference from David's family has him making a really boneheaded mistake, which drives a wedge between him and Willow. I loved that she stood her ground, and ached for her heartbreak over his actions. He finally realized the truth and his speech at his cousin's wedding showed just how much he had changed. I loved his big moment at the end as he opened up his heart to Willow. The epilogue was great.
There were some awesome characters and situations throughout the book. Willow's mom is still the same hippie she was when Willow was a kid, but Willow is much more accepting of her now. I really enjoyed seeing the two of them grow closer. The part with the park protest was hilarious. There is also some mystery regarding who Willow's sister's father is, though I have my suspicions. I really liked Shelly's mom and her obvious love for David. She could have been a real obstacle in his relationship with Willow, but instead she was behind him providing the kick in the tail that he needed. I loved their conversation in the kitchen the morning after he slept with Willow. She gave him some good advice from someone who'd been in his shoes. On the other side of the coin was David's mother. I didn't like her at the beginning, and absolutely nothing changed by the end of the book. She is a snob and a bully and incredibly self-centered. I loved picturing the look on her face every time he stood up to her. My favorite secondary character was Natalie. She, too, was grieving her mother's death, which made her especially vulnerable to her grandmother's bullying. David wasn't much better at the beginning, and I ached for Natalie and her unhappiness. I loved seeing her blossom under Willow's influence. It was especially satisfying, though heartbreaking, too, to see her confront David and her grandmother over the way Willow was treated. I'm looking forward to the next book and seeing more of Dusty.