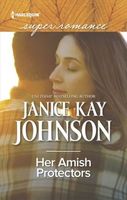 She had wanted a simpler life in Amish country…
The caring community in her new Missouri small town was a healing salve for Nadia Markovic's wounded spirit…until someone broke into her apartment above her Amish quilt shop and robbed her while she was sleeping. The thief made off with all the funds they'd just raised through the sale of her neighbours' handmade quilts. And police chief Ben Slater can't rule her out as the prime suspect. Only her Amish friends are willing to give her the benefit of the doubt. People are angry enough to even target her with violence… But while Ben might not trust her, he's committed to protecting her, confusing her feelings for this man who's pulling her apart!
Fantastic book. I was hooked on it from the very first chapter. Nadia has come to Byrum to escape the memories of what happened to her and get a new start on her life. She has her quilting store, which allows her to indulge her passion, has made some good friends in both the Englischer and Amish communities, and has organized a fundraiser to help her neighbors recover from a devastating tornado. When someone breaks into her apartment and steals the proceeds, Nadia is heartbroken. It's even worse when it appears that the police chief believes that she is the most likely suspect.
Ben is also a relatively new arrival to the small town. He left his big-city cop job when he realized that his loss of objectivity when dealing with particular criminals impacted his ability to do his job. Though his new job isn't as intense, he still harbors a deep cynicism about what his fellow humans are capable of. When he gets the call about the missing money, Nadia is at the top of his suspect list.
The initial meeting between Nadia and Ben is very antagonistic. Nadia still harbors some resentment toward law enforcement thanks to an event in her past and takes it out on Ben. On his side, Ben's experience causes him to be a bit less sympathetic toward Nadia than he could be. Underneath it all is a simmering attraction. Ben fights the attraction, knowing that he has to remain objective to do the investigation properly, but his heart tells him that she is innocent. It takes Nadia longer, as she has to deal with the effects the investigation has on her life and business. I liked how Nadia slowly begins to trust Ben and believe that he is working to prove her innocence. Ben has a couple of instances of foot-in-mouth disease, but his growing feelings for Nadia are obvious. I liked the effect that Ben's support had on Nadia as she came to terms with her past and opened herself up to what she could have with him.
The mystery of the missing money was very well done. Nadia's desire to help the people of her new home was clear from the beginning, and I ached for her when the money was stolen. Not only was she heartbroken that the much-needed money was gone, but she was also hurt by the attitudes of so many of the people she thought were friends. The lack of clues made finding the culprit even more difficult. Ben was also suspicious that there were two unsolved crimes that took place in the same building. Things became even more intense when Nadia was shot. I loved seeing the support she received from the Amish community and how it contrasted with the attitudes of the other townspeople. The scene outside her shop was heartbreaking and heartwarming at the same time. The resolution of the missing money was a complete surprise to me, as I never suspected the person who did it. The final confrontation with the shooter was intense, and the identity of that one was exactly who I thought it was.
I also loved the various secondary characters. Nadia's Amish friends were wonderful. It was sweet to see the older woman and her fierce defense of Nadia and her innocence. I really enjoyed seeing them include her in their quilting frolic. I especially loved Nadia's friend and employee Hannah, and how she insisted on remaining even if Nadia couldn't pay her. I'd love to see her get her own story. I also adored Ben's sister Lucy. I ached for what she had been through and loved that she was ready to start taking back control of her life. Ben's protectiveness of her was understandable, even if he took it a little far sometimes. I loved his shock when she stood up to him over spending time at Nadia's shop. I liked how quickly she and Nadia became friends. I would really like to see her get a story of her own, and wonder if it would involve Jacob or someone else.