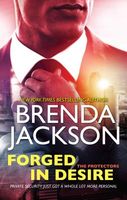 Series:
Protectors
(Book 1)
Strong enough to protect her. Bold enough to love her.
When good girl Margo Connelly becomes Lamar "Striker" Jennings's latest assignment, she knows she's in trouble. And not just because he's been hired to protect her from an underworld criminal. The reformed bad boy's appeal is breaching all her defenses, and as the threats against her increase, Margo isn't sure which is more dangerous: the gangster targeting her, or the far too alluring protector tempting her to let loose.
Though Striker's now living on the right side of the law, he's convinced his troubled past keeps Margo out of his league. But physical chemistry explodes into full-blown passion when they go on the run together. Surrendering to desire could be a deadly distraction -- or finally prove that he's the only man qualified to keep her safe, and win her love.
Good start to the new series, with an intense start. Margo has been on jury duty, and the newly convicted criminal has stated that everyone involved in the case is in danger of being killed until he is set free. No one takes him seriously until people start dying. Concerned for her safety, Margo's uncles hires Summers Security to provide protection. Striker is the protector she gets.
From the moment they met, the heat between them is intense. Both are determined to ignore it at the beginning. Margo recently ended a relationship and is off men for awhile. She's also not happy about having him underfoot 24/7, interfering with her life. Her attitude is less than pleasant, partly as a defense against the attraction. Striker has never felt such a strong attraction to any woman, much less a client. His job is to keep her safe, not get distracted by her.
I liked both Margo and Striker. Margo's parents were killed when she was younger and she was raised by a bachelor uncle. She's a talented wedding dress designer, independent, and beautiful. She has no trouble making her opinion known about Striker's presence in her life, but finally accepts the necessity. Striker was terrific. He has turned his life around after spending several years in prison. Events from his past have influenced his need to protect, and he takes it very seriously.
I loved their first meeting. There is some serious antagonism, fueled by an instant attraction. Each one gave as good as they got until they realized that they were going to have to live together for the time being and called a truce. I enjoyed their conversations as they got to know each other. Neither had any trouble pushing the boundaries of nosiness about the other, and both ended up sharing things that they hadn't shared with others. As their attraction grew, it finally reached the point where neither could resist, and they were explosive together. Neither has been looking for love, but it found them anyway. Margo was pretty accepting of her feelings once she admitted them to herself. Striker was a harder nut to crack. Thanks to his past, he doesn't feel he's good enough for her. Plus, he's carrying a boatload of guilt about some of those events, and that has him afraid to risk loving anyone. I liked the ending, as Margo gave him the time he needed to put them to rest. His big moment at the end was sweet and romantic and perfectly timed.
The suspense in the story was really good. There was a lot going on. The main thing was the assassin who was taking out people involved in the trial. The police and FBI are stumped and frustrations are high. I loved the involvement of the psychic. There were some really good scenes with her, especially as she dealt with the skeptics. She also had an intense scene with the criminal behind the killings. There are multiple twists and turns as law enforcement wonders how the assassin can keep eluding capture. The final confrontation with him is intense. There are also secondary problems involving her ex, her uncle's ex, and another who seems to come out of nowhere.
I also loved the feeling of family that ran throughout the book. Striker, Quasar and Stonewall met and became friends with each other in prison. With the help of Shep Granger (
Grangers
series), they turned their lives around. There are also connections with their boss Roland, and the respect and care they have for each other is obvious. There are also family secrets that come out. The background story on that is a bit heartbreaking, and I loved seeing some healing begin. There's also a fantastic scene where Margo stumbles onto the secret and won't let go until all is revealed. I also enjoyed seeing the Granger men and their wives as they made guest appearances in the book.
I'm really looking forward to Quasar and Stonewall's stories. There are hints in this book as to how those are going to go.