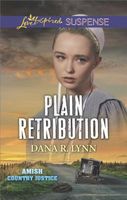 Series:
Amish Country Justice
(Book 2)
AMISH ABDUCTION
Ten years ago while on rumspringa, Rebecca Miller and her friends were kidnapped and held captive…and now, living in the English world, she's nearly abducted again. One by one her friends who once helped send their abductor to jail are targeted, and she is next…unless police officer Miles Olsen can stop a killer. Deaf since birth, the only person on the force that Rebecca can communicate with is Miles, and he needs this case to redeem himself of past mistakes. When the relentless killer tracks them deep into the heart of Amish country, protecting Rebecca must be Miles's sole focus. Because a mistake this time will cost something worth more to him than his job -- the woman he's falling for.
Good book with a sweet romance and gripping suspense. It starts with a rush as Rebecca is attacked while leaving work one night. The attack brings back memories from ten years ago when she and several friends were kidnapped and held captive. After the girls' rescue, their testimony helped send the kidnapper to prison. This time she can break free and is rescued by Miles. To their dismay, Rebecca and Miles discover that those victims have been targeted and that she appears to be the next in line.
I loved Rebecca from her first appearance as Jess's friend in
Plain Target
. She is a woman of amazing inner strength. Deaf since birth, she dared to leave her Amish family to seek out deaf community "Englischers." She has made an excellent life for herself with a job she likes and good friends among both the hearing and the deaf. I loved the descriptions of the challenges she faces and the effects they have on her life and her hopes for the future.
I also loved Miles. He is still trying to make up for past actions (see
Presumed Guilty
) and solving this case will go a long way toward that redemption. As the only officer who is proficient in sign language, he is put in charge of protecting Rebecca and finding the culprit. He is intense and determined not to fail.
I enjoyed the development of the relationship between Miles and Rebecca. There are sparks of attraction from the beginning though both try to ignore it. Miles doesn't want to let his emotions interfere with his job, and is afraid that giving in will be too much of a distraction. Rebecca believes that allowing herself to feel something for Miles will only lead to disappointment and heartbreak. I loved how sweet and caring Miles was each time he needed to explain something that was going on to Rebecca. He was amazingly sensitive to her feelings of isolation even when there were people around her. His protectiveness warred with his desire to keep his emotions out of the mix. It was fun to see Miles try to deny his growing feelings for Rebecca, though everyone around him could easily see it. Rebecca also could not deny the effect that Miles had on her. The way that he understood her and made her feel included only deepened her feelings for him, even though she didn't think her feelings were returned. It wasn't until he nearly lost her that Miles could admit the way he felt. The epilogue was sweet and romantic, and I loved how it included Rebecca's family.
The suspense was really good. The danger to Rebecca was obvious and intense from the very start. Each attack brought more questions about who was behind them. My heart was in my throat several times as it seemed the attacker appeared out of nowhere. It was easy to see how frustration at his failures increased the attacker's frenzied attempts against Rebecca. The final confrontation had me on the edge of my seat until everyone was safe.
*Copy received in exchange for honest review