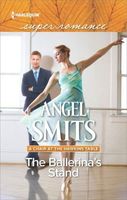 Series:
A Chair at the Hawkins Table
(Book 4)
Love reaches far beyond words
When she was growing up, a deaf child in foster care, dancing gave Lauren Ramsey a sense of belonging. Now she's a prima ballerina with her own dance studio; everything's finally going right. And then lawyer Jason Hawkins turns up and drops a bombshell: Lauren's unknown father has left her a fortune. Well, Jason can take that money and shove it. Except…he can't. Once he sees Lauren dancing, he can't stay away…
Terrific book. Jason is approached by a family enemy while at home in Texas on a visit. The man wants his assistance making sure his daughter, who lives in LA, gets her inheritance. Jason is enchanted when he sees her dance and astounded when he discovers that she is deaf. He also isn't sure how he is going to communicate with her.
Lauren has been deaf all her life. Her mother died when Lauren was five, sending Lauren into foster care. It was a hard life, with Lauren usually feeling like an outsider. Things changed when she discovered music and dance and was taken in by a famous ballerina. She has become quite famous and uses her talent to help others. She is stunned to hear that her unknown father has left her a fortune.
I really liked Lauren, most of the time. She is determined, loyal to those she cares for, and enthusiastic about sharing her love of dance. She is also extremely independent, reluctant to accept help from anyone. This frequently puts her at odds with Jason.
I thought Jason was great. Like the rest of his family, he needs to take care of people. His choice was to do it using the law, and away from the influence of his family. He has made a name for himself in LA. I loved his determination to do the best he can for Lauren, from helping with her protégé, Dylan, to learning sign language so he can communicate with her.
The development of their relationship was pretty sweet. The biggest thing that got to me was Jason's desire to be able to talk to her. I loved his need to learn to sign and his frustration when he felt he wasn't learning fast enough. He was surprised by how hard it was to get Lauren off his mind as he tried to remind himself that she was a client. Lauren is a woman who finds it very difficult to trust others. After years in foster care, changing homes and losing friends, she has cut herself off emotionally from most people, trying to protect her heart. I loved seeing the two get to know each other as Jason inserts himself into her life. He slowly breaks down her barriers just by being the nice guy that he is. When she is injured in a fire at her studio, Jason refuses to leave her side. All the time there is an undeniable attraction that simmers between them. When they finally give into it, neither can deny that it is more than just physical nor is either ready to ignore their fears and confess their feelings. I ached for Lauren as she pushed him away, and for Jason as he tried to find a way past her independent streak. I loved Lauren's "ah ha" moment as she finally understood his protectiveness. Jason's big moment at the end was very sweet and romantic as he laid his heart in front of her.
There was also a lot of turmoil in Lauren's life that she had to deal with. There was the inheritance that she had and the emotions regarding her father that she had to face. I ached for her as she learned more about the man he was and confronted the few memories she had of him. There was a terrific scene where she faced her brother and nephew as they contested the will. I adored the judge in that case, as he provided some excellent relief to some otherwise difficult moments. There was also some trouble involving Dylan and his sister. I loved Lauren's support of them both, but it was Jason who really stepped up for them. The relationship between Lauren and Maxine was a complicated one. Both are very strong women and butt heads on a regular basis, but Maxine is there when Lauren needs her.
One of the best things about this book was a look at the life of someone who is deaf. The frustration of being unable to communicate with someone and the feeling of isolation because you are "different" were beautifully portrayed. I felt Lauren's terror after the studio fire when she couldn't see and the relief when Jason was there to be her anchor. I also liked seeing Jason's point of view as a hearing person falling in love with a deaf person. His fears about having a true relationship were real and easily understood.