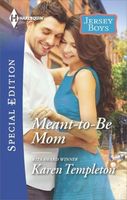 Series:
Jersey Boys
(Book 4)
LIFE, LOVE AND THE PURSUIT OF FAMILY
Sabrina Noble's Journal
Dear Diary,
You'll never believe who I spotted on my first day back in Maple River -- the one who got away, Cole Rayburn. He's definitely not the same kid I swung on the monkey bars with. In fact, Cole is more handsome than ever and has two adorable tweens.
There's definitely still something between Cole and myself…but I get the sense that his ex burned him and his kids pretty badly. Now that I'm back in New Jersey, I'm spending more and more time with the Rayburn clan, and I'm honestly loving it. But can I be the bonus mom these kids deserve and have the husband I've always dreamed of? Or is it true that you can't go home again?
Lovely conclusion to the series. Sabrina has arrived back in Maple River a week earlier than expected for her brother's wedding. She has just ended her own engagement and feels a bit lost. The last person she expects to see at her father's house is Cole, her former best friend.
Cole has brought his two kids to Maple River to house sit for his parents and to get used to them being a family. He was a weekend dad until his kids decided they were done being low man on their mother's totem pole. Now Cole has custody, and they are all feeling their way through their new dynamics. He wasn't quite ready to run into Bree so quickly after arriving in town.
Best friends from the age of thirteen until they were seniors in high school, their relationship came to a crashing end, leaving guilt and hurt feelings behind. They manage that first meeting pretty well, only brushing lightly against the past, but each is determined not to relive it. However, small towns being what they are, it is impossible to avoid each other completely. They are thrown into each other's company frequently and discover that rebuilding their friendship is easier than they expected.
The development of their relationship was interesting. They are determined to avoid each other at first, thanks to the way their childhood friendship ended. Along with that, Cole has his two kids to worry about, and they don't need another woman in their life who isn't going to stick around. Bree has been burned badly by her previous relationship and is in no hurry to get involved with another man who has kids. But life being what it is, the more time they spend with each other, the more the good memories begin to overcome the bad ones. I loved the scenes in the church kitchen and at the ice cream shop, where those memories bring them closer together. I also liked seeing the switch in their roles from when they were kids. Back then, Bree was the strong one who helped Cole through the rough times of his life. Now Cole is the one who sees past Bree's armor to the insecurities that she hides from everyone else. As their renewed friendship grows into something more, both of them have to fight their fears. I ached for Bree, who ran from what she believed was impossible. Cole had to face a few of his own entrenched ideas, and help came from an unexpected source. I loved his big moment at the end and the solution he came up with. The epilogue was great, too.
I loved the parts that Wes and Brooke played in the book. They are Cole's life and his reason for being in Maple River. Though there were certainly times I wanted to shake Wes, his attitude and fears were realistic. I loved his protectiveness toward his sister, paired with the typical sibling antics. Brooke was sweet, and I ached for the effect her mother's treatment had on her. It was awesome to see the way that she bloomed under Bree's attention.