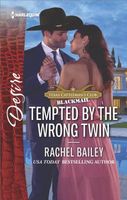 Series:
Texas Cattleman's Club: Blackmail
(Book 8)
Harper Lake can't believe she bedded her boss after a wild night at a masked ball. But then she finds out it was actually his identical twin, Nick Tate! And she's carrying his babies!
With his own set of twins on the way, Nick knows that proposing to Harper is the only next step. Yet the former navy SEAL is battling some deeply buried demons. Welcoming Harper back into his bed is the easy part. Finding true love and wedded bliss will be the ultimate test…and temptation.
Good book. Harper is normally very quiet and reserved, but the night of the TCC masquerade ball she found herself unexpectedly attracted to her boss, Malcolm Tate. Even more confusing, on the next work day, she felt none of those sparks and Malcolm behaved as if nothing happened. That is until she gave him the news that she was pregnant. The resulting conversation was puzzling - until she opened her door that evening and found Malcolm's twin brother Nick on the other side.
Nick is a former SEAL who is now his brother's silent partner in their company. He works from home because he has some PTSD issues that have turned him into something of a hermit. He is also battling his ex-wife, who wants to keep his daughter Ellie from him. When he hears Harper's news, he is determined to be a part of his babies' lives.
I liked the development of Nick and Harper's relationship. Neither had been able to forget their encounter, and they quickly discovered that the chemistry between them was still strong. Harper had planned to go home to her mother for help in caring for the twins, but Nick doesn't want her to leave and proposes that they get married instead. Harper is hesitant, but Nick brings up some good points. First, she'll have the support she needs because he will be there. Second, if they are married, there is little chance that they would become targets of the unknown blackmailer known as Maverick. Third, their marriage will protect the company from any scandal resulting from their relationship. And fourth, being married will help Nick in his custody suit for his daughter Ellie. Though they agree that their marriage is business only, the attraction between them burns hotter each day.
Both Harper and Nick have some issues that have to be dealt with. The biggest is Nick's PTSD and the way he handles it. I ached for him and the pain and guilt he was carrying. As the strong, silent type, he was determined to keep his problems away from his relationship with Harper. I loved her strength of will and compassion as she refused to be shut out. Her solution was brilliant, and I loved seeing what a difference it made in Nick's life. Harper has her own fears to deal with. A childhood in a broken home has created abandonment issues, and Nick's methods of dealing with his PTSD aggravate those issues. But Harper has discovered that she's stronger than she thinks and stands up against Nick's attempts to pull away.
I loved the way that they took the time to get to know each other. Though they did things backward - first baby, then marriage, then getting to know each other, it worked for them. Nick's idea of dating, even though they were married, was inspired, and I loved the things he did. There was such a deep well of romanticism in that man and Harper was lucky to be on the receiving end. I also liked how Harper was able to get Nick to open up to her. Though each of them fought their feelings, it didn't take all that long for love to grow between them. Though Nick almost let his fears win, in the end, he trusted in Harper and her strength. The scene at the waterfall was sweet and romantic.

There was a little talk of the blackmailer, Maverick. His identity is still unknown, and in this book, there is no activity from him. Nick's ex-wife's scumbag fiancé tries using the threat of giving Maverick information about Nick to turn the custody battle. I was a little surprised at the way that turned out, but Melissa redeemed herself a little bit in that scene. I am looking forward to seeing who the blackmailer is and what drives him.