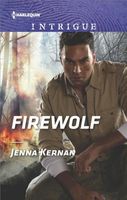 Series:
Apache Protectors: Tribal Thunder
(Book 3)
When opposites attract, the sparks ignite more than they bargained for…
Dylan Tehauno is a hotshot, an expert in preventing and fighting forest fires. He knows that the inferno that killed a tech billionaire was no accident -- and he suspects that he and filmmaker Meadow Wrangler were supposed to die, too. When lawmakers identify Dylan as a prime suspect, he and Meadow decide to find the real arsonist themselves.
Dylan and Meadow have nothing in common. He's a proud Apache and a war hero, a self-made man. She's a rich girl with a tabloid past. But there's no denying the heat between them. Is there more to their attraction than physical desire? Will they survive long enough to find out?
Very good book. This book was action packed from the beginning, and the tension rarely let up. Dylan was on the way to do a fire inspection of a billionaire's new house when he ran across Meadow. She was filming the house, something she'd been doing since construction started, as part of a documentary. After a slight altercation he continued on his way, just in time to see the house explode. As a firefighter and Hotshot, he knew he had only moments to get back to Meadow to save her life. The intensity of the fire scene was incredible. I could practically feel the heat and smell the smoke as the author described Dylan's efforts to protect Meadow and himself from the fire. The description of his actions made me feel as if I was there.
As part of the Tribal Thunder unit, Dylan is aware of the attacks by a group of eco-terrorists (
Turquoise Guardian
and
Eagle Warrior
). When he first meets Meadow and finds out who she is, he isn't certain if she can be trusted. He also has a feeling that he and Meadow were not supposed to survive the fire, a feeling borne out when they are attacked by supposed rescuers. As he and Meadow are pursued, accused of starting the fire, they are determined to find out the truth of what happened and who was behind it. There are multiple twists and turns as Dylan and Meadow escape several attempts to silence them. There were several times when I really wasn't sure how they were going to get out of trouble and I was on the edge of my seat until they did.
I loved the relationship that grew between Dylan and Meadow. It is definitely one of opposites attracting. Dylan is a pretty straight arrow, a man who follows the rules and doesn't do anything that is reckless. He's seen two of his friends fall in love, and realizes that he wants that kind of happiness for himself. Meadow is the youngest in her family and has been in trouble of some kind for most of her life. Many of her exploits have been chronicled in the tabloids. Different as they are, there are sparks that fly between them from the very beginning. Dylan finds it hard to believe that he is drawn so completely to protect her, and that his heart so quickly wants to make her his. But he's pretty well convinced that she would never want to be with him. Meadow has been searching for her place in the world. I ached for the way she felt so unloved by her family. There are some interesting twists that are revealed as Meadow searches for the truth behind the attacks.
I loved the protectiveness that grew between Meadow and Dylan. Both wanted what was best for the other, and believed that they were not it. There's a sweet scene between Meadow and Dylan's mother at the end that shows Meadow that maybe she's not such a bad person after all. I loved the ending and seeing Meadow want to prove her love, and Dylan's ability to understand why she feels that way.
I loved seeing characters from previous books. Carter and Amber are still in Witness Protection. Ray is working with the hotshots and fills in for Dylan as captain while Dylan is on the run. Jack Bear Den is there every step of the way to try to keep Dylan and Meadow safe. I loved seeing the lengths he went to in order to do so. FBI agent Luke Forrest is also front and center as he works to find the terrorists while still staying within his Apache beliefs.