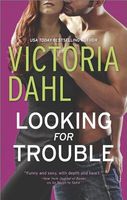 Series
Girls' Night Out
(Book 1)
A good reason to be bad…
Librarian Sophie Heyer has walked the straight and narrow her entire life to make up for her mother's mistakes. But in tiny Jackson Hole, Wyoming, juicy gossip doesn't just fade away. Falling hard for the sexiest biker who's ever ridden into town would undo everything she's worked for. And to add insult to injury, the alluring stranger is none other than Alex Bishop -- the son of the man Sophie's mother abandoned her family for. He may be temptation on wheels, but Sophie's not looking for trouble!
Maybe Sophie's buttoned-up facade fools some, but Alex knows a naughty smile when he sees one. Despite their parents' checkered pasts, he's willing to take some risks to find out the truth about the town librarian. He figures a little fling might be just the ticket to get his mind off his own family drama. But what he finds underneath Sophie's prim demeanor might change his world in ways he never expected.
Good book. Steamy, but also deeply emotional. Sophie is the town librarian, with a prim and proper look, who has never stepped out of line. She behaves this way because she's trying to live down her mother's reputation. Twenty-five years earlier, her mom had run off with a married man, leaving her husband and two children behind. But things aren't always what they seem. The bodies of her mom and the man were discovered recently (
Too Hot toHandle
), showing that they hadn't really run off together. And though Sophie may appear prim and proper on the outside, but underneath is a passionate woman who wants to come out and play.
Alex is the youngest son of the man who disappeared with Sophie's mom. He had a rough childhood with a mom who never believed that her husband had gone away on his own. She was constantly dragging him and his brother on wild goose chases looking for him. When Alex was eighteen, he left home and hasn't been back in sixteen years. In that time he has become a tattooed, motorcycle riding bad boy, who has a job as an engineer that keeps him on the road. He has reluctantly come back to town to participate in a memorial service for his dad, but has no intention of sticking around any longer than necessary.
Then Alex and Sophie meet, and the chemistry between them is explosive. At first, neither knows of the connection between them. Once Sophie realizes it, she wants to back off, but the heat between them is too much to resist. Alex doesn't want to add to the family drama, so they agree to keep what's between them quiet. Neither is looking for anything permanent, as Alex will be leaving in a few days, and Sophie has devoted her life to taking care of her brother and stepfather, only giving in to her wild side once in a while and with strangers.
I loved seeing the two of them together. Alex doesn't judge Sophie based on what her mother did. He likes her just the way she is. As they get to know each other, he sees past the good girl surface and naughty girl underneath, to the woman who has been deeply affected by her mother's actions. She has spent her life taking care of her stepfather and brother, making sure she has "earned" her place in their lives. She dreams of travelling, but is afraid of leaving and finding out that she isn't needed after all. Alex sees all of this and wants to help her break free. Sophie sees Alex as a man who is still affected by the crazy actions of his mother. He dealt with it all by leaving it all behind and making his own life. Coming back is hard for him, as he has to face the results of his actions. She sees that he needs to reconnect with his family, even if he doesn't realize it at first.
I liked seeing them slowly fall in love with each other. It wasn't something they expected or wanted, since their lives are so different. What they had moved from just the physical to a connection that neither could deny. I liked seeing how they tried to protect each other. Alex would attempt to deflect his mother's attacks on Sophie. Sophie tried to protect Alex from the results of her brother's actions. But they also had to find a way to deal with their own issues before they could hope to have something together. There was a heartbreaking confrontation between them as each tried to protect their own heart by pointing out what was wrong with the other. It took facing their own fears, with a little helpful pushing from others, before they could see a way forward. I loved the ending, especially with the peek at Sophie's plans for after Alex returns from his latest trip.

I enjoyed the secondary characters, too. I liked seeing how Shane and Merry are doing together. I also liked how Shane and Alex were eventually able to repair their relationship. I really liked Sophie's dad and his practical method of dealing with the drama of his wife's disappearance. The conversation between he and Sophie at the end showed just how much he loved her. Sophie's friends were terrific. Their support of her through all her troubles was great. There were also some pretty funny scenes with them, like Lauren's delivery of the cinnamon rolls, and their determination to get Sophie out of her house and to the bar after her confrontation with Alex.