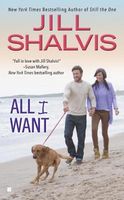 Series:
Animal Magnetism
(Book 7)
Pilot-for-hire Zoe Stone is happy to call Sunshine, Idaho, her home base. But her quiet life is thrown for a loop when her brother's friend Parker comes to stay with her for a week. The U.S. Fish and Wildlife special agent is a handsome flirt with a gift for getting under her skin. And the situation only escalates when Parker hires her to fly him around the area while he collects evidence on a suspected smuggler.
Now she has to live and work with the guy. But when they're in the air, she sees another side of him. He's driven, focused, and sharp. And while he enjoys giving commentary on her blind dates, she quickly realizes with a shock that it's Parker who gets her engines going…
Very good book. Zoe is the last of the three Stone siblings and the only one who hasn't found true love yet. She pretends that she's fine alone, but really she wants what they have. Instead, she makes her work as a pilot her life, along with her dog Oreo, until she decides it's time to go after what she wants. As the book opens she's getting ready for a blind date, assisted by commentary from her sister Darcy. A challenge from Darcy has her kissing the man at the door, only to find out he's not her date.
Parker is an agent for the Fish and Wildlife Service, who is on forced leave from his job, after the death of a friend and his own injuries. He's been told to leave the case alone, but can't do it. A tip brings him to Sunshine, where he is renting a room from his friend Wyatt's sister. He does not expect the welcome that he gets.
There are sparks between Zoe and Parker from the beginning. Both try to resist, Zoe because she's looking for something permanent, which he isn't, and Parker because he'll be leaving as soon as he does what he came for. But resistance is futile as each is fascinated with the other. Zoe is smart, works hard, loves her family dearly and is also rather bossy. She did most of the raising of her siblings thanks to her neglectful parents, plus has been burned by a previous relationship, so she likes to be in control. Her favorite phrase is "I'm fine, I've got this". Parker is career driven and focused, but has a softer side that shows when dealing with a pair of kittens and his sister. He's intrigued by Zoe, but knows that he's not the one for her, because he isn't staying around.
I loved the development of their relationship. Parker is charming, sexy and has a great sense of humor. I loved the way that he could tease her out of a bad mood. Spending time with her has him thinking about things that had never appealed before, like having a permanent home and someone to come home to. It was sweet to see the little things he did to make her life easier. Zoe works a little harder to resist, but soon falls for the man she sees under the determined agent. It was fun to see them "playing house" together, with the desire for more growing between them. Some of their conversations were laugh out loud funny, while the chemistry between them was sizzling. But when his job brings danger to Zoe, Parker pulls back. It takes him a little while to see the light but his big moment at the end was great. I really loved that bit of vulnerability that was there beneath his apology.
There was a bit of suspense in this story, dealing with the poacher that Parker has been chasing for years. It shows the stubborn and somewhat rogue side of him, as he breaks quite a few rules that have been made clear to him. The confrontation between Parker and Carver was pretty intense and didn't end quite the way I thought it would.
The secondary characters always add some extra life to the story. From Darcy's advice at the beginning, that started the whole thing with Parker, to Wyatt's advice to Parker, the siblings show their love for and understanding of Zoe. The football game involving characters from previous books was a chance to catch up, and also see some of the fun interactions between them. I loved Parker's sister and how important she was to him. She was sweet and fun, and the Vegas and Glacier trip was awesome. But the one who stole the show was the dog Oreo. It was fun to see his reactions to the kittens, and how quickly he took to Parker.